Business Newsletter: Cold-Call Networking via Email, LinkedIn, & Hoya Gateway
Posted in Announcements News | Tagged BusinessNewsletter
February 7, 2022 – Business: Upcoming Events, Opportunities, and Resources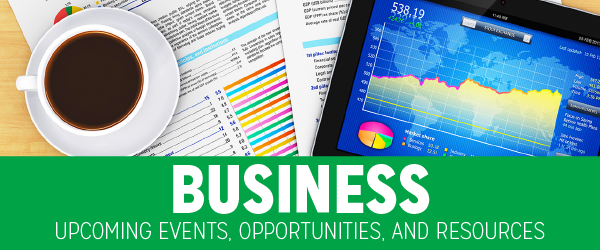 Hi Hoyas,
In effectively every sector, networking with recruiters and current employees is always helpful in order to increase your chances of getting an interview, rather than your application getting ignored or given only a cursory review. For some sectors, like Finance, networking is near-necessary in order to get an interview.
The further you proceed in your career, the easier networking becomes as you're able to leverage people already in your professional network in order to introduce you to people at the specific company or organization you're interested in (e.g., "Oh you should talk with my friend who works over at XYZ org, I'll connect you with them via email"). When you're just starting your career, though, and just beginning to form a professional network, a lot of your reaching-out to recruiters and employees will be via cold-call emails or LinkedIn/Hoya Gateway messages. Honestly, in my own career, cold-call emails have never gotten easier or less awkward over time, you just have to do them less as you build out your own network that can give your introductions.
Since the majority of your cold-call networking will be early in your career, here are some things to keep in mind:
Probability of Response: You often need to reach out to multiple people at a specific firm (sometimes 5 or more) in order to get 1 of them to respond. There are many reasons why someone may not respond: they're on vacation; they're not checking their LinkedIn/Hoya Gateway messages; the email got lost within the pile of their Inbox; they don't prioritize responding to reach-outs without an introduction; they already are communicating with various other students and don't want to talk to an additional person; etc. There are many reasons they won't respond that have little to do with you and mostly have to do with them. So since the probability of response may be low, you need to email enough people so that at least one of them will answer and you can get a-foot-in-the-door to their own professional network
Seniority & Influence: Unfortunately the likelihood of response has a generally inverse relationship with the seniority/influence of the person you're reaching out to. The more senior a person is, the less likely they are to respond to your cold-call reach out. The more junior a person is, the more likely they are to respond, but the less influence they will have over the hiring team. In the Finance sector, specifically, recruiters often ask 1st or 2nd-year analysts to recommend current students at their alma mater that may be worth interviewing. But those analysts don't have much if any influence over anything past the initial screening/AI-based interview. A potential strategy then is to initially reach out to more junior people at the organization to then get their introduction to more senior/influential people.
Leverage Similarities: Generally employees are more likely to respond to cold-call emails if there is a similarity or affinity between you and them that makes you stand-out from other cold-callers. You can explicitly mention this similarity in your cold-call email: that you're from the same city/state/region/country; are pursuing the same degree/major as them; went to the same university (e.g., Georgetown) as them; have experience in clubs/organizations that's similar to work they've done, etc. However, while this does increase the likelihood of response, it unfortunately also reinforces existing biases and in-group connections rather than cross-group interaction and mentorship. This is also difficult particularly for employees of identities that are under-represented in their organization as they can become the go-to person for everyone of similar identity cold-calls, draining their finite amount of time and energy for responding and mentoring.
Timing: Be cognizant of the time of the year, the week, and the day that you are reaching out based on the sector and role of the person you're emailing. For example, toward the end of quarterly cycles in Finance, most employees' emails are flooded with end-of-quarter reporting requirements and emails are more likely to go unanswered. Same thing for Government Consulting during the "buying season" right before and right after the Federal fiscal year starts. In general, Monday is the day when employees in most sectors check their email most closely but also is when they get the most emails, so it is more possible to get accidentally skipped over. Friday is the day when most employees get fewer emails, but also are less likely to be focusing on their email. Time of day also matters: if you are emailing someone in Sales and Trading, don't send the email in the morning as it is likely going to get lost in the business of the first few hours of trading. Early afternoons are ideal for Sales and Trading. Meanwhile, it may be best to send your email early for Investment Banking so that it is one of the first things they see upon arriving in the office. If you are sending a LinkedIn or Hoya Gateway message, late afternoons or weekends are ideal, since most people do not check LinkedIn during their primary working hours.
Message Subject Lines: Employees rapidly skim through their many emails to triage importance and the need-to-respond. If you are emailing someone, put a subject line that makes your connection and intention clear . For example, "Georgetown student interested in XYZ" and fill in the position title or firm name.
Conciseness: Your email or LinkedIn/Hoya Gateway cold-call messages do not need to be complicated. Just be concise, to the point, and clear about what your request is . There is no need to explain your full story in the initial email; rather, explain that you are interested in learning about their experience at the organization and would love the chance to talk on the phone to ask some questions. Here are some examples of cold-call messages I've received via LinkedIn related to my previous role at Deloitte:

"Hi Nicholas, I hope this finds you well! My name is ______, I'm a _____ at Georgetown, and also super involved in ________! I'd love to chat about your experience at Deloitte if you find yourself with a few extra moments. Thanks, and I look forward to connecting!"
"I am sure you are extremely busy! I am a _____ at Georgetown, and I have a few questions about Deloitte, as I am applying to work in the New York office. I was wondering if you would be able to chat on the phone for about 10 minutes. Thank you so much."
"Hi Nicholas! Thank you very much for connecting me on Linkedin! My name is ______ and I am a _______ at Georgetown applying for the GPS Summer Scholar Program Do you have 10-15 minutes to speak about your experience as a consultant at Deloitte, work culture, and working in the GPS industry? I would love to hear from you.
Many thanks, ______"
Strength of Connection: Once some employees start responding to you, prioritize building stronger connections with a few people rather than weak connections with a ton of people. While it is important to cast a broad net, weak connections are less useful than more meaningful relationships with several key people at each firm you are applying to.
Maintain the Connection: It's important to remember that your cold-call and initial discussions with an employee or recruiter aren't a one-time thing, it's the start of that person being part of your professional network. Regardless of whether you successfully get the internship/job at the organization or not, stay in contact with that person–messaging them at least once a year, if not every 6 months, or every quarter, to let them know what you're up to in your career steps and asking how they are. This helps keep your name fresh in their minds in order to offer potential opportunities later or to use to gain introductions to additional people to add to your network.
Also, if you are a student with a disability, The Lime Network is a great resource for networking opportunities and job postings various business sectors, including Finance, Consulting, and Tech. You can sign-up for their newsletter and updates here

If you have questions on this or anything else, I can be reached at nmb44@georgetown.edu

Hoya Saxa,

Nick Bellomy (he/him)
Manager, Employer Relations and Industry Advising
Consulting, Finance, Marketing, Real Estate, and Business
Cawley Career Education Center, Georgetown University
Finance Recruiting
Finance, unlike nearly all other sectors in the economy, really requires you to have an in-sector internship prior to applying for a full-time job Senior Year.
You apply and interview during your Sophomore Spring (2022) for internships that will occur the Summer after your Junior Year (2023) to hopefully secure full-time offers to start the Summer after your Senior Year (2024).
Read through the Finance Recruiting Prep Guide and Resource List here; and watch the Finance Recruiting 101 recording here
Consulting Recruiting
Several firms are holding info sessions now for leadership development programs and summer internships
Website Notes
You are currently viewing a shortened version of this newsletter, leaving out the events and job opportunities from that time. To see the full version, click here.
Career Center Resources
Online Resources:
Writing Resumes & Cover Letters
Networking Skills
Interviewing Skills
Industry Resources
What Can I Do with My Georgetown Major?
New drop-in hours for spring semester!
Drop-ins will now be available from 9-10AM Tuesday through Friday, 1-2PM Monday through Friday, and 7-8PM Monday through Thursday every week via georgetown.zoom.us/j/417727789.