Careers In Government, Education, & Nonprofits
Posted in Announcements News | Tagged Government & Nonprofit Newsletter
March 20, 2023 – Upcoming Events, Opportunities & Resources
From the advisor:
Well, hello Hoyas! Happy Spring! It is spring, right? I mean, I don't know about you but this weekend was a bit chilly. As I've looked around, though, yes – Spring is here. And how do I know that? Well, we accidentally made a wrong turn driving downtown and ended up around the Tidal Basin and were surrounded by people – and more importantly the nearly-bloomed cherry blossoms!
Of all the things students missed out on during the pandemic, one of the most common things I heard was the chance to be in D.C. and do "D.C. stuff." Hoyas – now is your chance. I am serious, if you are able to get down to the Tidal Basin in the next two to three days, please go check out the cherry blossoms. It is one of my most favorite things to do. In addition to the flowers, my favorite monuments, the Jefferson Memorial, MLK Memorial and the FDR Memorial also line the tidal basin and make for a pensive and inspiring outing. Be sure to also check the National Cherry Blossom Festival website (new window)to see what performers may be doing, and any other fun activities taking place in the area. Do classes have you stuck on the Hilltop? Be sure to check out the #bloomcam (new window) – yes it's a real thing!
Also – you may notice that getting an appointment time with me may be proving a little more difficult than normal. And that is why I am so excited to introduce you to your new Student Industry Advisor for Government, Eduardo Torres. Eduardo is a senior in the School of Foreign Service, majoring in International Politics and minoring in Portuguese and Diplomatic Studies. He is from the border city of Laredo, Texas. Eduardo has researched border security issues, evidenced by his work in Congress with the House Committee on Homeland Security and the Office of Congressman Henry Cuellar. He also interned with the Department of State's Foreign Service Institute where he worked on modernizing Spanish language courses taught to Foreign Service Officers. Eduardo is proficient in Spanish and Portuguese. This fall, he will attend the Johns Hopkins School of Advanced International Studies Europe campus in Bologna, Italy where he will pursue a Master of Arts in International Affairs. As a 2023 Pickering Fellow, Eduardo will complete two State Department internships in the next two years before beginning his career as a U.S. Foreign Service Officer in 2025. He will begin appointments THIS WEDNESDAY! You can find him under, "Industry Advisor," –> Government Peer Advisor.
Enjoy your week!
Peace,
Beth
Website Note
You are currently viewing a shortened version of this newsletter, leaving out the events and job opportunities from that time. To see the full version, click here.

PENNER FAMILY EXPERIENCES FUND
Georgetown is committed to making experiential learning opportunities accessible. Through the Penner Family Experiences Fund, undergraduate students can apply to receive an award of up to $4,000.00 for the Summer 2023 term to assist with alleviating some of the financial burden of participating in an experiential learning opportunity. Check out the website here for more info (new window).
Please note that this is a sampling of jobs and internships with approaching application deadlines. Go to Handshake to see the complete list.
Please note that this is a sampling of jobs and internships with approaching application deadlines. Go to Handshake to see the complete list.

Please note that this is a sampling of opportunities with approaching application deadlines. Go to Handshake to see the complete list.
---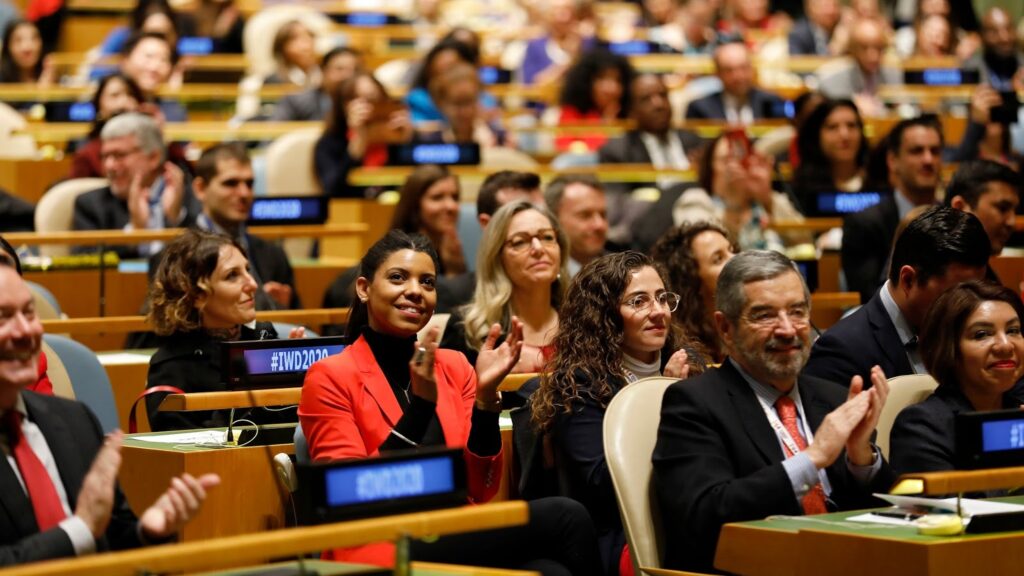 Facts and figures: Women's leadership and political participation
(UNwomen.org)
"Women's equal participation and leadership in political and public life are essential to achieving the Sustainable Development Goals by 2030. However, data show that women are underrepresented at all levels of decision-making worldwide and that achieving gender parity in political life is far off."
Read all of the research here (new window).

HELPFUL JOB BANKS
Federal Government Fellowships & Internships
Interested in federal internships or fellowships, but confused when to apply? Check out this summary of popular internships and their general deadlines.
Popular Government Contractors
Interested in working in the federal space, but not directly for Uncle Sam? Check out this list of popular federal government contractors, and the agencies with whom they work.
Nemnet, a national Diversity Recruitment & Consulting Firm, is committed to assisting schools and organizations in the recruitment and retention of diverse teachers, administrators and coaches. Learn more HERE.
U.S. House of Representatives Resume Bank
Looking for an easy way to explore all the internships offered at the House of Representatives? The House Resume Bank provides job seekers with a simple way to submit their resumes for jobs in House offices in Washington, D.C. and across the nation's congressional districts.
Industry Advisor:
Beth Schill
elizabeth.schill@georgetown.edu
twitter.com/hirehoyas_bethS
linkedin.com/in/elizabeth-schill-81a1765/
Drop-In Appointments:
Drop-ins are in person Monday through Friday from 1pm – 3pm.
Resources:
Writing Resumes & Cover Letters
Networking Skills
Interviewing Skills
What Can I Do with My Georgetown Major?
One on one Appointments:
Appointments are available via Handshake. Click 'Career Center,' then 'Schedule Appointment,' then 'Industry Advising,' then 'Government, Nonprofit, and Education'. [If you do not see appointment availability, please check back the following Monday or email careercenter@georgetown.edu.]