Cawley Career Insider: FAQs In This New World of Hiring
Posted in Announcements COVID-19 News | Tagged CawleyEmailNewsletter, COVID-19
March 30, 2020 – Your Weekly Source for Career Advice, Events and Opportunities
Fellow Hoyas – things change fast! With that in mind, we are going to address some frequently asked questions today. Read it all below or just click on each link to get right to your question.
Final Words (At The Beginning)
In short, we are all in this together, making changes, adapting, accommodating. So don't hesitate to ask for help. This stuff is tough, but together we can get through it. And, if nothing else, today, just win the day.
Frequently Asked Questions
---
Help! How do I talk to someone about jobs?
We are still here! Cawley is hosting virtual drop-ins on Mondays – Fridays from 1:00 p.m. – 3:00 p.m. AND 6:00 p.m. – 9:00 p.m. EST! All you have to do is click on this link during those hours and you'll be connected with a staff member or Wayfinder.
Want to make an appointment with a staff member? Click here (new window).

---
Who's Hiring?
Yes, there are companies that are hiring! In Handshake alone, over 300 internships (including an IB internship at Goldman Sachs (new window)) and over 1000 full-time jobs for seniors have been posted since March 16th. And that's just since classes were moved to online!
Looking for a wider swath of choices? You may want to check out this article (new window) and this article (new window). And keep in mind, while you may have certain companies in mind that may not be on these lists, many of these organizations mentioned will also be looking to fill operations roles, finance roles, marketing roles, etc. Keep "company" and "job function" separated in your mind as you search.
---
I can't find anything in Handshake for me. How do I make it work?
At first glance, Handshake can be overwhelming. Like any database, there is a lot of stuff in there that may not apply to you.
The key to making it work for you is to a) set up a filter, and b) save that filter so that the platform emails you each day or week. We've written an article that explains how to set up filters to make the platform work for you.
Like watching videos? Handshake created this video (new window) that explains how to set up filters. (Please note that it was made in 2017 so the platform looks a bit different. But the functions are essentially the same).
---
What if I don't get an internship this summer? Will that look bad in the future?
Even 10 years later, when someone says, "I graduated during the recession," people know what that means. It means jobs were tough to find at that time. Recent grads may have been working in non-ideal jobs, if they were working at all. It wasn't their fault. No blame or judgment assigned.
Today's situation will likely be the same. But, if you can be creative in how you spend your summer and incorporate that creativity into your story ("I lost my internship but started my own food delivery service to senior citizens in my neighborhood"). It will go a long, long way in any future job, regardless of industry.
---
How to Make Handshake Work for You
The key to making Handshake work for you is to set up filters. These filters will isolate the type of job/internship you are looking for, and will notify you on a daily or weekly basis when new jobs posted meet those criteria. See below for instructions on how to set these up.
1) Establish your criteria
When you log into Handshake, go to "Jobs." The first thing you'll see at the top are filters.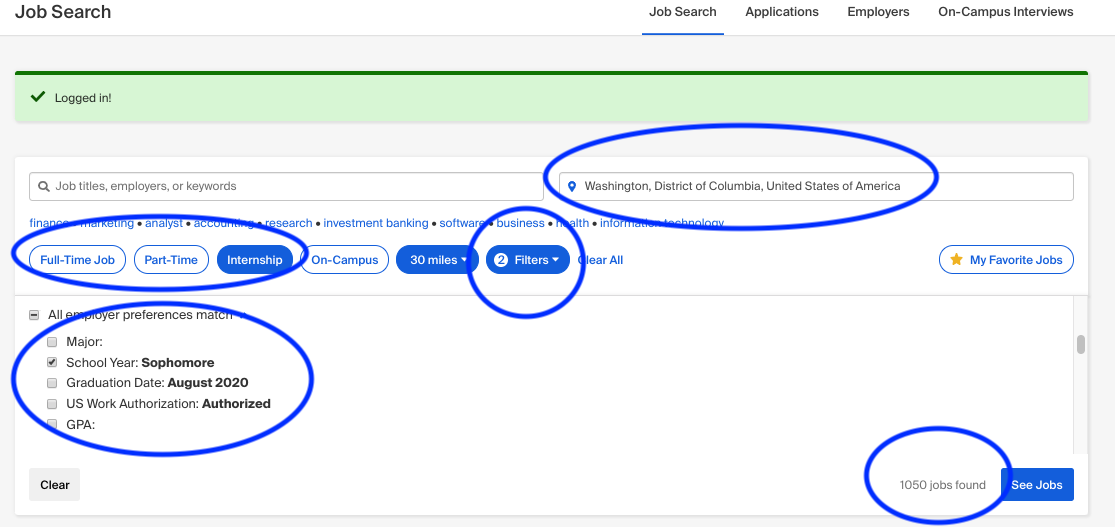 Our recommendations:
Enter the city you are looking to work in.
Click the "full-time" or "internship" buttons.
Click "Filters" and more will pop up. You can click your school year under the "Employer Criteria" section to get internships for only your school year.
Down on the right you'll see the number of jobs that qualify. Still too overwhelming? Add more criteria. Keep making adjustments to make it unique to you, but not so many adjustments so that you get zero results.
2) Save your search.
When you click "See Jobs" on the search page, your results will show. At the top of the results page, click on "Save Search."
Once the search has been saved, you can click "Edit Notifications" to determine if you want to get notified by email or within the app on a daily or weekly basis.
3) Want to look for multiple types of roles? Set up as many searches as you'd like.
Every time you save a search, that search is saved as a new search. Old searches are not overwritten. Want to edit your searches?
Click on your initial in the upper right hand corner.
Click on "Notifications" from the drop-down box.
On the left hand side, click on "Notification Preferences." Your searches will then be listed and you can edit them from there.
Upcoming Events
The Career Center hosts a number of events to help you develop your skills, explore your career interests, and connect with employers. Visit Handshake (new window) for a full list of events!
IMPORTANT NOTE: All of the listed events are accessible online!
Monday
Tuesday
Thursday

Cawley Drop-in Hours | Monday through Friday, between 1 – 3 p.m. AND 6 – 9 p.m. EST
We hold regular drop-in hours at bit.ly/CCEC-dropins (new window). You will be connected with an advisor for a 15-minute meeting on a first-come, first-served basis.
Jobs & Internships
Featured Opportunities
LAST CHANCE: Various Internships | The CALL | Apply here (new window) by March 31
Take advantage of this opportunity to live in the NYU dorms in Downtown DC for a semester to take coursework with a cohort and pursue an internship in the city. Winter 2021 Internships | Libra Group | Apply here (new window) by April 13

This is a paid opportunity for undergraduate students to intern with the Libra Group and its global businesses. Opportunities are available in social responsibility, finance, engineering, human resources, accounting, hotel operations and more.
Arts, Media & Comm.
Looking for more opportunities? Looking for more opportunities? Sign up for the Industry Newsletter here (new window).
---
Health, Science & Tech
Looking for more opportunities? Sign up for the Industry Newsletter here (new window).
Business & Finance
Looking for more opportunities? Sign up for the Industry Newsletter here (new window).
---
Government/Law, Non-Profit & Education
Looking for more opportunities? Sign up for the Industry Newsletter here (new window).