Special Career Fair Edition
Posted in Announcements COVID-19 News | Tagged Government & Nonprofit Newsletter
February 1, 2022 – Upcoming Events, Opportunities & Resources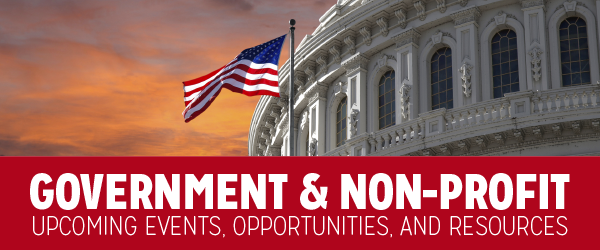 From the Advisor:
Happy February, and Happy Lunar New Year/ 新年快乐! /ལོ་གསར་བཀྲ་ཤིས་བདེ་ལེགསThis newsletter is a short one, meant to just share with you some upcoming events that you should definitely mark on your calendar.

The Cawley Career Education Center will host the annual Government, Education, and NonProfit Career Fair on Friday, February 18 from 10:00am – 3:00pm. This fair will take place virtually on Handshake and will feature nearly 100 organizations looking to hire undergraduate and graduate students into internship and full-time roles.
Be sure to register today, and as employers create their schedules, sign up for information sessions or 10 minute one on one appointments.
Check out some of the amazing organizations attending:
| | | |
| --- | --- | --- |
| Government | Non-Profit | Education |
| | | |
| U.S Intelligence Community | AARP | D.C. Public Schools |
| U.S. AID | The Carter Center | Alexandria County Schools |
| Department of State | Amate House | Prince George County Schools |
| State of Michigan, Dept. of Treasury | Avodah Service Corps | Prince William County VA Public Schools |
| Center for Medicare & Medicaid Services | Cato Institute | DC Bilingual Public Charter Schools |
| Department of Homeland Security | Council on Foreign Relations | Lower Kuskokwim School District |
| National Security Agency | Govern for America | Alliance for Catholic Education |
| USPS | Lead for America | City Year |
| General Services Agency | Schmidt Futures | Southern Teachers |
| Congressional Research Service | The Ronald Reagan Presidential Foundation | Christo Rey in NYC & Chicago |
| National Institutes of Health | Vital Voices | Georgetown's Teacher Residency Program |
How To Register
Keep in mind that participating in a virtual career fair is a bit different than an in-person career fair. You must first register for the fair itself, AND THEN register for either a group session and/or a one-on-one session with the employers.
The Old Way:
The Virtual Way:
Preparing for the GEN FairNot sure where to start prepping for the fair? Still a bit lost? Be sure to check out these upcoming events offered by yours truly. We'll go over, at a high level, each industry, and considerations to make if you are considering a career path. We'll chat briefly about sample organizations in each category attending the fair, what documents you should have prepared, and how to put your best foot forward when speaking with recruiters at the Fair.
Careers in Education | Feb 10, 2022 | 12pm | RSVP
Careers in Nonprofits/NGOs/Advocacy Groups | February 14 | 12pm | RSVP
Careers in Government | February 17 | 12pm | RSVP
Please be sure to mark you calendar, as this fair is a wonderful way to connect with some great employers.
Have a great day, Hoyas!
Have a great week!
Beth
Website Note
You are currently viewing a shortened version of this newsletter, leaving out the events and job opportunities from that time. To see the full version, click here.
Article of the Week
"Workers are Grappling with a Major Tech Skills Gap"
This article on Forbes really caught my eye. As I read, I realized that the tech skills they are talking about aren't the ones that typically come to mind for college students. Really, mastery of many of the technologies you all take for granted is what is so desired. Do you think putting word or Google Suite on your resume is a waste of space? Think again! Many organizations need people who are comfortable with such technology
Career Center Resources
Industry Advisor:
Beth Schill
elizabeth.schill@georgetown.edu
twitter.com/hirehoyas_bethS
linkedin.com/in/elizabeth-schill-81a1765/
Resources:
Writing Resumes & Cover Letters
Networking Skills
Interviewing Skills
What Can I Do with My Georgetown Major?
Virtual Drop-Ins:
New drop-in hours for spring semester!
Drop-ins will now be available from 9-10AM Tuesday through Friday, 1-2PM Monday through Friday, and 7-8PM Monday through Thursday every week.
Appointments: Virtual appointments are available via Handshake. Sign up under 'Career Center,' then 'Appointments', then 'Industry Advising," then 'Government, Nonprofit, and Education'.