Your Government, Education & Nonprofit Newsletter
Posted in Announcements COVID-19 News | Tagged Government & Nonprofit Newsletter
January 18, 2022 – Upcoming Events, Opportunities & Resources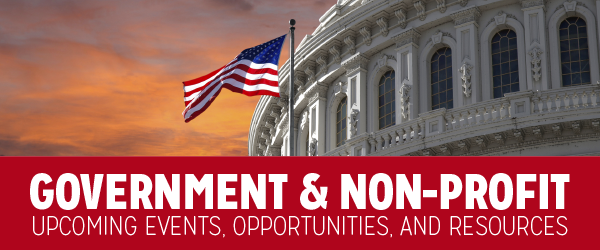 From the Advisor: You Are Not Behind!
Hello students! I hope you are staying warm and dry. It is definitely winter here in DC, but this Midwesterner loves it. Some of my fondest memories of college are walking across a snow-covered campus, when all the noise of the world is muffled by the gently falling powder. You get to your lecture hall, or dorm, or student event, to slowly unpeel the layers of coats, scarfs and gloves to be embraced into a realm of possibility. Yeah – I am a winter lover for sure.
At any rate, I've gotten a number of panicked emails from you all as of late. Some from seniors worried about getting jobs (yes, I know, your parents were nagging you during break), and some from underclassmen *really* wanting those summer internships.
So let me just take a step back, pause and let you know that YOU.ARE.NOT.BEHIND. While it is true that there are a few outliers (*cough, cough* State Department & Intel Agencies – I see you), most organizations are still frantically trying to find Spring 2022 interns.
You will start to see hiring for both full time opportunities and internships pick up towards the end of January. And some will, honestly, wait until the last minute. That is the thing about organizations in this industry – for full time jobs, they really don't have hiring timelines. They post jobs as a person leaves the organization, or they come into some new funding source (i.e. grants, donations, or government budget appropriations). So what can you do? Here are a few quick tips:
Have a master resume & cover letter up to date, so when you see your dream job, you are ready to apply.
Stop by drop-in hours, M-F from 1-3pm, to get your documents reviewed.
Search for your favorite employers on Handshake, USAJobs, or Google. Mark them as a favorite, or set up a saved job search so that when they *do* post, you get an alert email letting you know. 
Register for the Government, Education & Nonprofit Career Fair (Feb. 18th). Once employers set up their schedules, make sure to register for a 10 minute conversation with recruiters. 
Also, I am always ready to meet with you to answer specific questions. Please remember, you also have our Government Peer Advisor, Anya, available to help you, as my appointments fill up rather quickly. You can find her under "Industry Advising" → "Government Peer Advising." 
So hang in there, don't fret about the job search, and take it one day and one step at a time. You got this!
Beth
Website Note
You are currently viewing a shortened version of this newsletter, leaving out the events and job opportunities from that time. To see the full version, click here.
Article of the Week
An ode to the Federal Worker & the BlackBerry
In a somewhat interesting, and almost comical read, check out this article for a look back at the BlackBerry & how it shaped government. As a contractor in the mid aughts, I can admit that much of this was true. I had a love/hate relationship with my BlackBerry!
Career Center Resources
Industry Advisor:
Beth Schill
elizabeth.schill@georgetown.edu
twitter.com/hirehoyas_bethS
linkedin.com/in/elizabeth-schill-81a1765/
Resources:
Writing Resumes & Cover Letters
Networking Skills
Interviewing Skills
What Can I Do with My Georgetown Major?
Virtual Drop-Ins:
New drop-in hours for spring semester!
Drop-ins will now be available from 9-10AM Tuesday through Friday, 1-2PM Monday through Friday, and 7-8PM Monday through Thursday every week.
Appointments: Virtual appointments are available via Handshake. Sign up under 'Career Center,' then 'Appointments', then 'Industry Advising," then 'Government, Nonprofit, and Education'.