Your Government, Education & Nonprofit Newsletter
Posted in Announcements COVID-19 News | Tagged Government & Nonprofit Newsletter
January 26, 2022 – Upcoming Events, Opportunities & Resources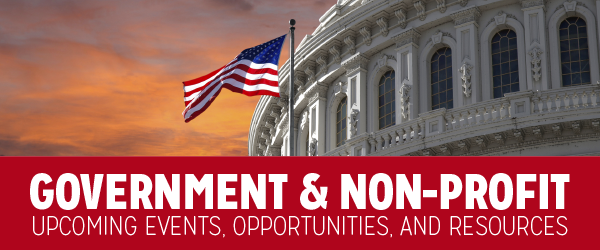 From the Advisor: 
Fear keeps us focused on the past or worried about the future. If we can acknowledge our fear, we can realize that right now we are okay. Right now, today, we are still alive, and our bodies are working marvelously. Our eyes can still see the beautiful sky. Our ears can still hear the voices of our loved ones. – Thich Nhat Hanh
Last week, we mourned the loss of Thich Nhat Hanh, a Buddhist monk who in many ways brought the concept of mindfulness (among many other things) to Western audiences. I like this quote of his because it is so human. Fear is a strong emotion that manifests in all kinds of ways. I remember clearly one experience I had with fear. When I was doing my study abroad in Tibet, we went on many hikes. At one point, in the wilderness near Riwoche Monastery, we hiked up a mountainside (about 15000 feet), to a meditation cave where a holy lama meditated. The climb up was incredible and the scenery otherworldly. I felt so invigorated and alive… and then we had to climb down.
Paths along many of these trails we hiked is a loose term. It was maybe, at best, matted down grass or some worn dirt. In this case, it was nothing but gravel. I recall at one point, losing my footing and immediately sliding down the mountainside. I slid for what felt like a few hundred feet, and right as my feet started to cross over a cliff, one of our Tibetan guides caught me by the handle of my backpack and stopped my descent.
I was terrified. I threw up. I wanted to curl up in a ball and recover. But guess what, I had to get down the mountain. I was battered, bruised, still terrified at my legs that had given out on me. But I had to get down. I had to put one terrified and shaking foot in front of the other and travel down another couple thousand feet. And after what felt like forever, I did.
And life is like that, you know? We have these amazing mountaintop experiences where we accomplish something grand. We look around and admire all we have done, and then we realize, we have to go down the mountain. After all that work, it can be really disorienting. Very few talk about that experience and are vulnerable with what happens after the summit – or what happens when you struggle to get there in the first place. In our culture, and definitely at Georgetown, there is so much pressure to be on top of your game. You may be uncertain and fearful about where you are going and what the future holds. The continued uncertainty of the past two years adds to that.
But, it is ok to be vulnerable. It is totally cool to bring that in when you meet with me, to ask the big questions. Granted, I may not have the answer to the meaning of life (well, actually, it is 42…), but I can be there as a listening ear and sounding board as you try to figure things out.
So, take a deep breath in the middle of your day, and try to notice one thing around you that makes you smile. Maybe it is the sunlight, or an awesome cup of coffee. Maybe it is playing your favorite jam on repeat, maybe it's eating jam on toast… But take that time to breathe and remember that you are ok! You put one shaky foot in front of the other, and eventually you land on solid ground.
Two other quick notes. One is rather exciting. Registration is now open for the Government, Education & Nonprofit Career Fair. It will be on Feb 18th from 10am – 3pm, and will be virtual on Handshake. We already have over 100 different employers, so be sure to register and sign up for 10 minute conversations with recruiters. 
Also, my appointments for the next two weeks are filling up fast. Need someone to talk to about your search but can't find an open appointment slot? Never fear! Make an appointment with your Government Peer Advisor, Anya. You can find her under "Industry Advising" → "Government Peer Advising." 

Have a great week!
Beth
Website Note
You are currently viewing a shortened version of this newsletter, leaving out the events and job opportunities from that time. To see the full version, click here.
Article of the Week
South Georgia: The museum at the end of the world reopens for business 
Interested in a very unique adventure for an internship? Check out this really cool article about a British island at the edge of the Antarctic, which is one of the most remote tourist spots in the world.What a cool opportunity for the adventure-seeking 🙂 
Career Center Resources
Industry Advisor:
Beth Schill
elizabeth.schill@georgetown.edu
twitter.com/hirehoyas_bethS
linkedin.com/in/elizabeth-schill-81a1765/
Resources:
Writing Resumes & Cover Letters
Networking Skills
Interviewing Skills
What Can I Do with My Georgetown Major?
Virtual Drop-Ins:
New drop-in hours for spring semester!
Drop-ins will now be available from 9-10AM Tuesday through Friday, 1-2PM Monday through Friday, and 7-8PM Monday through Thursday every week.
Appointments: Virtual appointments are available via Handshake. Sign up under 'Career Center,' then 'Appointments', then 'Industry Advising," then 'Government, Nonprofit, and Education'.