Your Government, Education & Nonprofit Newsletter
Posted in Announcements News | Tagged Government & Nonprofit Newsletter
February 8, 2022 – Upcoming Events, Opportunities & Resources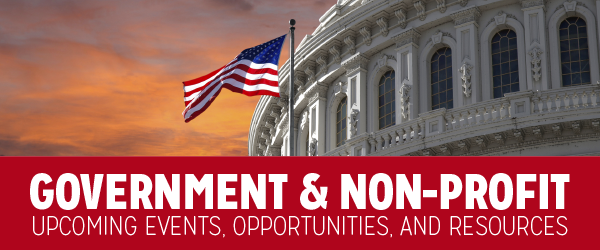 From the Advisor:
We all fall down sometimes..
I was watching the Olympics this weekend – Women's Freestyle Snowboarding, to be precise. I was in awe of the bravery of the athletes catapulting themselves into the air at crazy rates of speed… only to completely wipe out! Ouch! Not sure what you follow, but the course that day was too cold, too fast, too… something. A lot of the athletes – the best at their sport, didn't complete a successful run, save for those in the top positions.
That got me thinking. The two times I tried snowboarding, I ended up on my butt most of the day (and barely able to walk for days later), so I definitely admire their prowess and athleticism. As I was watching, even for the cringeworthy moments, I was inspired. The perfection combined with real errors made me feel better about my own mistakes. Because, we all make them. And what is more is the community the competitors had with one another. The high fives, the hugs, the consolations. Even when the stakes are so high. Granted, things are likely different when the cameras are off, but there is a lot to take away.
Even the best fall down sometimes
You give it your all, and shrug off the rest
Surround yourself with a community that supports you – even when (and especially if) you mess up
So much of this is true for careers and as you move through college and life. While we all see the polished side of one another – the perfection – the truth is that we all take our falls and hits along the way. Maybe the past week has been rough, or maybe you haven't gotten that longed-for job or internship. It will be ok. You pick yourself up, shrug, and keep on moving to the next right thing.
Until then, stay warm #Hoyas!
Quick note: my appointments through the end of February are filling up fast. Need someone to talk to about your search but can't find an open appointment slot? Never fear! Make an appointment with your Government Peer Advisor, Anya. You can find her under "Industry Advising" → "Government Peer Advising."
Have a great week!
Beth
Check out the following resources for the latest career news:
Sign up and check Handshake for events, jobs, and follow favorite employers to be alerted when they post something
Follow me on Twitter
Helpful Resources
Federal Internship & Fellowship Opportunities and TimelinesApplying for federal and intelligence positions can be confusing, between security clearances and early deadlines. This document contains information on deadlines, eligibility, and pay for student opportunities at the federal departments and intelligence agencies.
House Office of Diversity & Inclusion Portal
Looking for information on Hill opportunities? Be sure to check out this office's vast resources, including a great report on pay and representation on the Hill. You can also submit your resume to the Democratic database, or the Republican database.
Website Note
You are currently viewing a shortened version of this newsletter, leaving out the events and job opportunities from that time. To see the full version, click here.
Article Of The Week
SFS Career Center Podcast | Listen to the latest episode on your browser on podcast apps
In the January 2022 episode, join alumni from a range of different agencies as they share their motivations for choosing public service, highlights of working in their agencies, and tips for navigating federal hiring paths. The SFS Career Center Podcast is dedicated to delivering the insights and information to help Hoyas find and achieve their best career.
Career Center Resources
Industry Advisor:
Beth Schill
elizabeth.schill@georgetown.edu
twitter.com/hirehoyas_bethS
linkedin.com/in/elizabeth-schill-81a1765/
Resources:
Writing Resumes & Cover Letters
Networking Skills
Interviewing Skills
What Can I Do with My Georgetown Major?
Virtual Drop-Ins:
New drop-in hours for spring semester!
Drop-ins will now be available from 9-10AM Tuesday through Friday, 1-2PM Monday through Friday, and 7-8PM Monday through Thursday every week.
Appointments: Virtual appointments are available via Handshake. Sign up under 'Career Center,' then 'Appointments', then 'Industry Advising," then 'Government, Nonprofit, and Education'.