Your Government, Education & Nonprofit Newsletter
Posted in Announcements News | Tagged Government & Nonprofit Newsletter
February 23, 2022 – Upcoming Events, Opportunities & Resources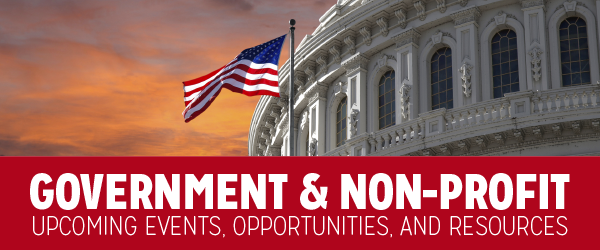 From the Advisor: 
This quote is one of my favorite that has been a bit of a guiding light in my own career. When I think about my journey, or that of someone interested in public service – I think it really is about the ripple effect.
The thing is that you can make a ripple in a bit way – say working for an organization whose work is literally saving lives around the world. Or you can make a ripple in a small way: smiling at a coworker, checking in on a friend you haven't talked to in a while. The important point is to think about this question and wonder: how can I be that difference for someone today?
It's harder to do than we think. It is so easy, especially at a busy season like now, when midterms are piling up, relationships are stressing you out, parents are annoying you, you can't find an internship (and it seems like everyone already has one)… but the times when we, or our world, are under extreme stress and pressure is the exact time when this ripple can help (or, in turn, have a negative impact, too!).
In the meantime, please be sure to check out the upcoming events and sign up to learn more. As always, you can check out the following resources for the latest career news:
Sign up and check Handshake for events, jobs, and follow favorite employers to be alerted when they post something
Follow me on Twitter 
Helpful Job Banks and Resources
Federal Internship & Fellowship Opportunities and Timelines
Applying for federal and intelligence positions can be confusing, between security clearances and early deadlines. This document contains information on deadlines, eligibility, and pay for student opportunities at the federal departments and intelligence agencies. 

GU Politics Career Corner
Even more public policy internships and jobs! Check out GU Politics' career resource for positions on (and around) the Hill.

Heritage Foundation Job Bank for State Government Roles
Are you interested in serving in state government? Do you have friends and associates who would be interested in serving? If so, please visit the Heritage Job Bank's State Government job offerings today. 

House Office of Diversity & Inclusion
Interested in a role in the House, but not sure what you can do to get started? Be sure to check out this office for tips and tricks, and links to both Democrat & Republican resume banks!
Website Note
You are currently viewing a shortened version of this newsletter, leaving out the events and job opportunities from that time. To see the full version, click here.
SFS Career Center Podcast | Listen to the latest episode on your browser on podcast apps
In the January 2022 episode, join alumni from a range of different agencies as they share their motivations for choosing public service, highlights of working in their agencies, and tips for navigating federal hiring paths. The SFS Career Center Podcast is dedicated to delivering the insights and information to help Hoyas find and achieve their best career.
Industry Advisor:
Beth Schill
elizabeth.schill@georgetown.edu
twitter.com/hirehoyas_bethS
linkedin.com/in/elizabeth-schill-81a1765/
Resources:
Writing Resumes & Cover Letters
Networking Skills
Interviewing Skills
What Can I Do with My Georgetown Major?
Drop-In Appointments:
All drop-ins are back in person through the end of the Spring 2022 semester from 1-3PM Monday through Friday.
One on one Appointments:
Appointments are available via Handshake. Click 'Career Center,' then 'Schedule Appointment,' then 'Industry Advising," then 'Government, Nonprofit, and Education'  or 'Government Peer Advisor'. [If you do not see appointment availability, please check back the following Monday or email careercenter@georgetown.edu.]