Careers In Government, Education, & Nonprofits
Posted in Announcements News | Tagged Government & Nonprofit Newsletter
June 14, 2022 – Upcoming Events, Opportunities & Resources
From the Advisor:
Summertime!
Happy Summer everybody. I hope that wherever this newsletter finds you, you are able to get in some great time for R&R. It is so important, no matter how busy you may be, to take some time to just chillax. On that note, if you are in the DC area, one of my favorite events is coming up: the Smithsonian Folklife Festival. I would make it a point to check it out.

Also Seniors, worried if you don't have a job yet? That's ok – we are Here.To.Help! That's right, you have nearly full access to the Career Center for the first three years post-graduation. Don't be afraid to reach out, RSVP for events on campus, and come in for an appointment. I'd also recommend this awesome newsletter created by Georgetown alum and professor, Jacques Arsenault: PostGradCompass. It has a lot of #adulting101 tips that are so useful as you start to build your life outside of school. Check it out!

Important update!!
While you were all busy working on finals, exams and other awesome projects, I was also busy in my own way & building a whole person! No, I didn't get into cloning or building a robot of myself. I'm actually going to be heading out soon on Maternity Leave. But don't fret – we still got you covered:
Drop-Ins are virtual during the summer months, from 1-2pm on Tu/Thus. They'll be coming back in person with the Fall 2022 semester. For the latest, you can always check here.
Government, Nonprofit & Education Appointments: Erin Feree, formerly of the Cawley Center and also a coach with the SFS Career Center and the CALL will be taking on my hours while I'm out. She is a wonderful guide and you will be in great hands. As always, appointments can be made here. Then go to "Industry Advising" → "Government, Nonprofit & Education." If you don't see any appointments, keep checking as it may take a week or two to get settled.
SFS Students: If you are an undergrad, you also have access to the folks at the SFS Career Center. Be sure to talk to Tina Gaddy, who does appointments on MNOs and International Careers, and Elizabeth Boesen, who does a lot with the various fellowship opportunities.
In addition, be sure to check out the following lists, sign up for email alerts and also read this newsletter to find out some interesting opportunities for the fall months and beyond.
Catch y'all on the flip side. And in the meantime, remember to be kind to yourself.

Peace & blessings,
Beth
Website Note
You are currently viewing a shortened version of this newsletter, leaving out the events and job opportunities from that time. To see the full version, click here.
Summer (virtual) drop-in schedule
Drop-ins will be virtual this summer, so you can connect with us from anywhere! Consider drop-ins for document reviews and any questions you have — no reservation required.
Summer appointments (virtual & in-person)
We have appointments on Handshake to support you throughout the summer whether you are just starting the exploration process or you are ready for more industry-specific advice. Mock interviews are also available.
Availability will be limited in May and over the summer; if you don't see an appointment time in the system that works for you, email us at careercenter@georgetown.edu.
Please note that Cawley will be closed for staff training between May 23 – May 27 and August 15 – August 22.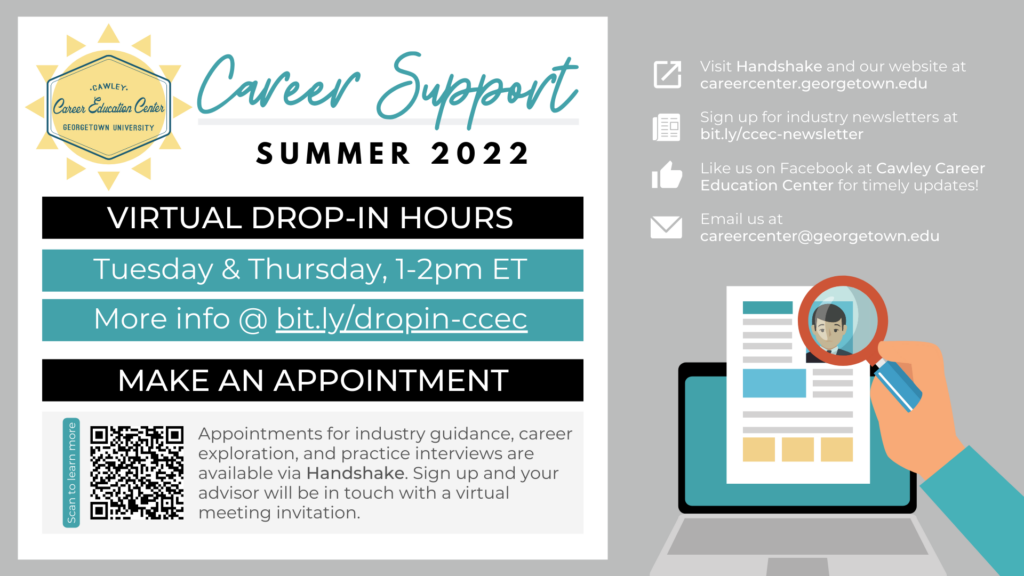 Please note that this is a sampling of jobs and internships with approaching application deadlines. Go to Handshake to see the complete list.
Please note that this is a sampling of jobs and internships with approaching application deadlines. Go to Handshake to see the complete list.
Public Service Recognition Week & The Service to America Nominees
If you didn't know, last week was Public Service Recognition week, a wonderful time to thank our government workers at all levels for the great work they do on behalf of the American people. Looking for some inspiration? Learn more about the Partnership for Public Service's 2022 Service to America Medals® finalists and vote your favorite nominee for the People's Choice Award.
Industry Advisor:
Beth Schill
elizabeth.schill@georgetown.edu
twitter.com/hirehoyas_bethS
linkedin.com/in/elizabeth-schill-81a1765/
Resources:
Writing Resumes & Cover Letters
Networking Skills
Interviewing Skills
What Can I Do with My Georgetown Major?
Drop-In Appointments:
Drop-ins are virtual on Tues/Thurs from 1-2pm for the summer months. Access our Zoom portal for drop-in appointments here.
One on one Appointments:
Appointments are available via Handshake. Click 'Career Center,' then 'Schedule Appointment,' then 'Industry Advising,' then 'Government, Nonprofit, and Education'. [If you do not see appointment availability, please check back the following Monday or email careercenter@georgetown.edu.]