Careers In Government, Education, & Nonprofits
Posted in Announcements News | Tagged Government & Nonprofit Newsletter
March 28, 2023 – Upcoming Events, Opportunities & Resources
From the advisor:
Hey Hoyas! I hope you had the chance to get outside and explore the cherry blossoms this past week. I find that getting outside every day for a walk – even for 10 minutes – does wonders for my mood and concentration. Well, that and a good cup of coffee (I'm looking at you Saxby's and MUG!).
This is the time of year when I often see incredibly stressed and overwhelmed students, who are on one hand, really frazzled with midterms and even finals. And on the other hand, you are really nervous as you haven't yet secured a job or an internship for this summer.
My advice, take one thing at a time. First things first, you are a student. So as much as you can, focus on having a strong academic performance. While I will be the first one to tell you that grades aren't everything, having a good academic standing can help with the most competitive of job and internship applications.
Second, have some good habits in place around studying and time management. This can help you immensely as you progress in your career. It's part of the skill set many employers refer to as 'project management." Be sure you have a good way of keeping track of your time – whether it's an app, or a paper planner. Me? I have both!
Third, as you are able, make progress on your career search. I am still seeing a lot of posts for jobs and internships, so be sure to check Handshake often (the more you interact with it, the better you are matched with cool opportunities). What's more you can set alerts with favorite employers to know when they post jobs, or will be on campus!
Four, take some time to rest. You are all lucky in having an upcoming Easter Break. Be sure to take advantage of the long weekend to get some rest and get caught up with your schoolwork so when you come back, you can make it down the home stretch.
Speaking of time, just a heads up that I will be offline most of next week, but I do have appointments available for after Easter Break. Don't forget, you can also make an appointment with our peer advisor, Eduardo (SFS '23)! You'll find him under "Industry Advising –> Government Peer Advising." 
Peace and Happy Easter,
Beth
Website Note
You are currently viewing a shortened version of this newsletter, leaving out the events and job opportunities from that time. To see the full version, click here.

PENNER FAMILY EXPERIENCES FUND
Georgetown is committed to making experiential learning opportunities accessible. Through the Penner Family Experiences Fund, undergraduate students can apply to receive an award of up to $4,000.00 for the Summer 2023 term to assist with alleviating some of the financial burden of participating in an experiential learning opportunity. Check out the website here for more info (new window).
Please note that this is a sampling of jobs and internships with approaching application deadlines. Go to Handshake to see the complete list.
Please note that this is a sampling of jobs and internships with approaching application deadlines. Go to Handshake to see the complete list.

Please note that this is a sampling of opportunities with approaching application deadlines. Go to Handshake to see the complete list.
---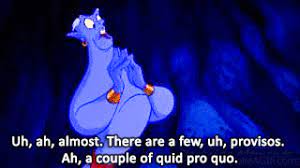 Can You Negotiate a Federal Job Offer? Yes, You Can!
(with a few provisos, a couple of quid pro quo..)
If you are in the fortunate position of being offered a federal internship or job offer, you may be wondering what room you may have to negotiate. And while it's true that it is not the same as private industry, check out this article (new window) and this article (new window) on ways you can ensure you are getting the best deal commensurate with your level of experience.

HELPFUL JOB BANKS
Federal Government Fellowships & Internships
Interested in federal internships or fellowships, but confused when to apply? Check out this summary of popular internships and their general deadlines.
Popular Government Contractors
Interested in working in the federal space, but not directly for Uncle Sam? Check out this list of popular federal government contractors, and the agencies with whom they work.
Nemnet, a national Diversity Recruitment & Consulting Firm, is committed to assisting schools and organizations in the recruitment and retention of diverse teachers, administrators and coaches. Learn more HERE.
U.S. House of Representatives Resume Bank
Looking for an easy way to explore all the internships offered at the House of Representatives? The House Resume Bank provides job seekers with a simple way to submit their resumes for jobs in House offices in Washington, D.C. and across the nation's congressional districts.
Industry Advisor:
Beth Schill
elizabeth.schill@georgetown.edu
twitter.com/hirehoyas_bethS
linkedin.com/in/elizabeth-schill-81a1765/
Drop-In Appointments:
Drop-ins are in person Monday through Friday from 1pm – 3pm.
Resources:
Writing Resumes & Cover Letters
Networking Skills
Interviewing Skills
What Can I Do with My Georgetown Major?
One on one Appointments:
Appointments are available via Handshake. Click 'Career Center,' then 'Schedule Appointment,' then 'Industry Advising,' then 'Government, Nonprofit, and Education'. [If you do not see appointment availability, please check back the following Monday or email careercenter@georgetown.edu.]