Career Treks
An immersion experience for sophomores and juniors.
Your support allows us to host annual career treks for prioritized industries and geographic locations.
About
Our location in Washington, D.C. leads to many opportunities for our students to meet face to face with professionals in careers they're interested in. These in-person interactions are a crucial part of the career education process for our students and serve to expand recruiting pipelines for current and future Georgetown undergraduates.
But our students are interested in employers and industries that are not conveniently located right outside our gates, and we know that those employers will be interested in our students. So when they don't come to us, we try to take our students to them.
By supporting our Career Treks initiative you will give Georgetown students the chance to travel to cities around the country to visit companies they might not otherwise get to connect with in person. Career treks take students on the road to meet Georgetown alums and other professionals, develop their relationships, expand their networks, and expand their awareness of the possibilities available to them.
Career Trek Examples
Not sure what a Career Trek might look like? You will find previous examples of our treks below.
Los Angeles Multi-Industry Career Trek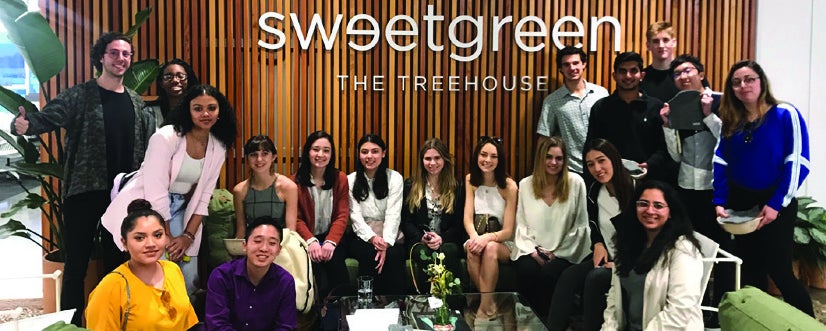 17 participants, 9 employer sites visited
"I went into the LA Career Trek with nothing but curiosity and excitement to learn from this multi-industry experience. The exposure that we got to the multiplicity of experiences that exist after graduation through networking, panels, Q&A's, and presentations left me feeling inspired, empowered, and motivated to hone in on my intuition about my next chapter of life. Knowledge is power and this trip allowed me to tap into a whole realm of opportunities that I didn't previously know existed."

Charlotte Jackson, Junior, Georgetown College
"Attending established companies like Google to boutique firms like Secret Weapon Marketing taught me that innovation can occur at any business–regardless of size. I am grateful to the Career Center for exposing me to the inner workings of several companies that I interact with on a daily basis."


Michael Moonjely, School of Foreign Service
New York Healthcare Management & Policy Career Trek
12 participants, 8 employer sites visited
"As a first generation student, I never had the exposure of the many distinct careers I learned about during this trip. In my perspective, there was only a handful of careers a healthcare major could pursue because they were the only one's I had knowledge of. This was scary for me… but this trip gave me a sense of relief. The possibilities are limitless."

New York Career Trek Participant
"As a transfer into the Healthcare Management & Policy major, I really had no idea what my career options were… but this trek has absolved any apprehension I have about my future. I now feel as if I have a purpose beyond attending classes and taking exams. I saw the difference the employees of these companies make in the world, and now I know I can make that difference too."

New York Career Trek Participant
Your support allows us to host annual career treks for prioritized industries and geographic locations.