Careers In Government, Education, & Nonprofits
Posted in Announcements News | Tagged Government & Nonprofit Newsletter
September 20, 2022 – Upcoming Events, Opportunities & Resources
From the Advisor:
Hello Hoyas!
It's that time of  year – time for career fairs, and interviews and applications! Phew!  It can also be a great time to learn more about all the awesome opportunities that are out there. Take a chance and go to an information session for an employer you've never heard about, ask an alumni to meet you for coffee to talk about your career, go to office hours with a professor (and no, not just to get an 'A', but to learn more about what and who they know), sit down for coffee with your parent's friends who own a company… just get out there (and off the Hilltop).  
Getting out there, and taking the time to network is critical to the success of your job hunt. Aside from my very first job out of college (which I found out about from a career fair!), every other job I've had has been through my network. From connecting at a shared volunteer experience, to meeting a fellow alum who needed help, to reaching out to a person whose work I admired, and last to being connected to a friend-of-a-friend-of-a-friend. You never know where the next opportunity will arise.
If you are nervous about networking, or worried it may be insincere, trust me, that is all totally natural to feel, and ok. Especially in D.C. This town thrives, I would argue, primarily on networks. It is incredible how often various parts of my lives (and people within it) intersect and result in some amazing opportunities. If you want to be in governance, policy, think tanks, etc., getting comfortable with putting yourself out there is the one thing you can do now to improve your job chances.
As always, we're here to help you along your way, so don't be afraid to stop by and say 'hi!"
Peace,
Beth
Website Note
You are currently viewing a shortened version of this newsletter, leaving out the events and job opportunities from that time. To see the full version, click here.
Please note that this is a sampling of jobs and internships with approaching application deadlines. Go to Handshake to see the complete list.
Please note that this is a sampling of jobs and internships with approaching application deadlines. Go to Handshake to see the complete list.
Helpful Job Banks and Resources

Georgetown University Center for Research & Fellowships: Seniors! interested in post-graduation Fellowships? Don't miss any deadlines! See the Center for Research & Fellowships for those that require their nomination and those that don't).

Nemnet, a national Diversity Recruitment & Consulting Firm, is committed to assisting schools and organizations in the recruitment and retention of diverse teachers, administrators and coaches. Learn more HERE.

Popular Government Contractors
Interested in working in the federal space, but not directly for Uncle Sam? Check out this list of popular federal government contractors, and the agencies with whom they work.
Looking for a new job in the House of Representatives?
The House is not a single employing entity, but rather it consists of several hundred individual employing offices, which are always hiring, and are looking for your resume! You can submit your resumes below:
Republican offices: housegopjobs.com
Democrat offices: majorityleader.gov/resumes
U.S. House of Representatives Resume BankLooking for an easy way to explore all the internships offered at the House of Representatives? The House Resume Bank provides job seekers with a simple way to submit their resumes for jobs in House offices in Washington, D.C. and across the nation's congressional districts.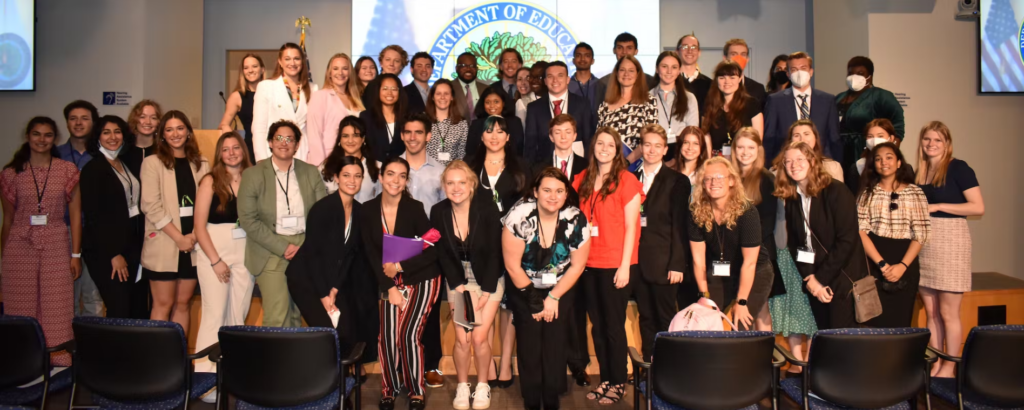 Students Lobby Lawmakers to Improve College Experience for Neurodiverse Learners
Daniel Lempres – Ed Surge
"More than 40 neurodiverse high school and college students traveled to Washington D.C. to meet with representatives from the Department of Education and elected officials. Their goal? To advocate for measures designed to better support students with learning disabilities in higher education."
Read the full article here (new window).
Industry Advisor:
Note: Beth Schill is on maternity leave until October 2022. Erin Ferree is serving as interim coach and has 1:1 appointments posted on Handshake.
twitter.com/hirehoyas_bethS
linkedin.com/in/elizabeth-schill-81a1765/
Drop-In Appointments:
Drop-ins are in person Monday through Friday from 1pm – 3pm.
Resources:
Writing Resumes & Cover Letters
Networking Skills
Interviewing Skills
What Can I Do with My Georgetown Major?
One on one Appointments: 
Appointments are available via Handshake. Click 'Career Center,' then 'Schedule Appointment,' then 'Industry Advising,' then 'Government, Nonprofit, and Education'. [If you do not see appointment availability, please check back the following Monday or email careercenter@georgetown.edu.]