Creative Opportunities Newsletter
Posted in Announcements News | Tagged Creative Fields, Creative Fields Newsletter
October 3, 2022 – Upcoming Events, Opportunities & Resources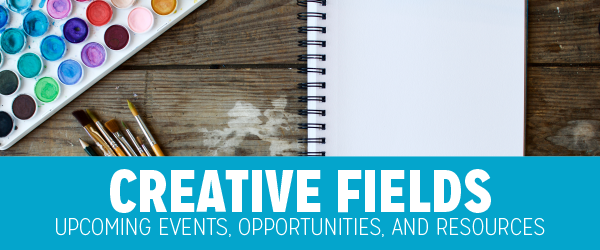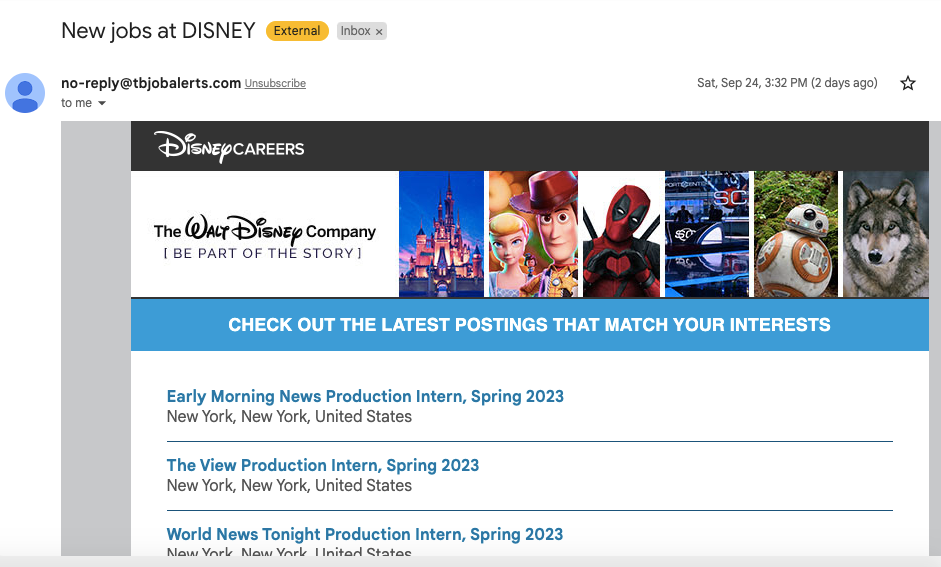 From the Advisor
When I meet with a new student, they're usually not too familiar with job alerts.
I love them.
In industries where timelines are so variable, a job alert:
1) Highlights jobs and internships. (This is the obvious one.) While I always set job alerts on job search engines, my preference is to start with the employer website – if they have a job alert function. That's the first place an employer will post.
2) Provides a rough recruitment timeline for that employer. This is Disney; we're close to the end of September, and they are still looking for spring interns. That means I can work on networking and not worry I'm missing any summer application timelines. However, my job alert for United Talent Agency – through LinkedIn – tells me that they are already thinking about the summer internship cycle. While it looks like a rolling deadline, I want to be more strategic about my application – put it in sooner than later – and ramp up my informational interview requests.
So. Set those job alerts. You will feel marginally less lost about those crazy timelines!
And, before I let you go, I want to highlight that PARAMOUNT will be coming to campus next week, people.  Paramount.  Let's give them a big Hoya Saxa welcome and register for their info session.  They are looking for ALL job functions: creative, marketing, finance, tech.  So come on out!
I will also be hosting two wonderful alumni from Phillips Auction House and Horizon Media. And our upcoming Employer in Virtual Residence is The Phillips Collection.  (All registration details are below.). If you are interested in how to better prepare yourselves for careers in these areas, these events are for you.
Take care all. Until next time!
Jacki
Website Note
You are currently viewing a shortened version of this newsletter, leaving out the events and job opportunities from that time. To see the full version, click here.
Please note that this is a sampling of jobs and internships with approaching application deadlines. Go to Handshake to see the complete list.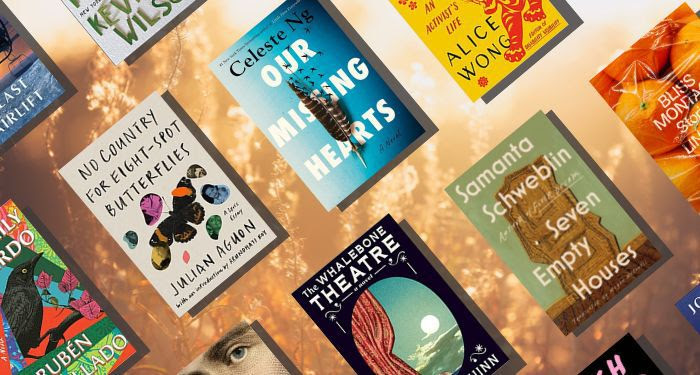 30 OF THE BUZZIEST, BEST FALL BOOKS OF 2022
Liberty Hardy, Book Riot | Sep 9, 2022
Industry Advisor: Jacki Banks
jlb49@georgetown.edu
Drop-ins are held M-F from 1pm-3pm at the Cawley Career Education Center. 
Undergraduates interested in a 1:1 with Jacki can schedule a 30-minute appointment via Handshake. 
Online Resources:
Writing Resumes & Cover Letters
Networking Skills
Interviewing Skills
Industry Resources
What can I do with my major?