Creative Opportunities Newsletter
Posted in Announcements News | Tagged Creative Fields, Creative Fields Newsletter
November 11, 2022 – Upcoming Events, Opportunities & Resources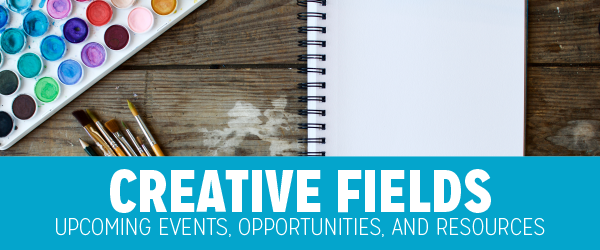 From the Advisor:
While you are counting down the days to a well-deserved break, I am gearing up for spring programming! (And, yes, I, too, am counting the days to a well-deserved break.)
Juniors and Seniors!  I have some programming planned for underclassmen, one of which is a networking night with you!  Have you had a really cool internship in arts (museums/auctions houses/galleries), media (entertainment/journalism), marketing (public relations/marketing/advertising) or fashion?  Would you like to share that experience with underclassmen in an informal setting?  Fill out this super quick form, and I will reach out to schedule a date & time that works for most. 
All class years: Did you want to attend one of the alumni or employer chats this past semester but couldn't make it? Check out my playlist on YouTube.
As always, stay tuned to this space for arts, media & marketing highlights. In the meantime, take care of yourselves!
Jacki
Website Note
You are currently viewing a shortened version of this newsletter, leaving out the events and job opportunities from that time. To see the full version, click here.
Please note that this is a sampling of jobs and internships with approaching application deadlines. Go to Handshake to see the complete list.

'We Have Been Deeply Shaken': 92 Museum Leaders Release Statement Addressing Climate Actions That Target Works of Art
The statement comes as world leaders meet at the COP27 climate summit.
Caroline Goldstein, Artnet | November 9, 2022
Industry Advisor: Jacki Banks
jlb49@georgetown.edu
Drop-ins are held M-F from 1pm-3pm at the Cawley Career Education Center.
Undergraduates interested in a 1:1 with Jacki can schedule a 30-minute appointment via Handshake.
Online Resources:
Writing Resumes & Cover Letters
Networking Skills
Interviewing Skills
Industry Resources
What can I do with my major?