Creative Opportunities Newsletter
Posted in Announcements News | Tagged Creative Fields, Creative Fields Newsletter
April 08, 2022 – Upcoming Events, Opportunities & Resources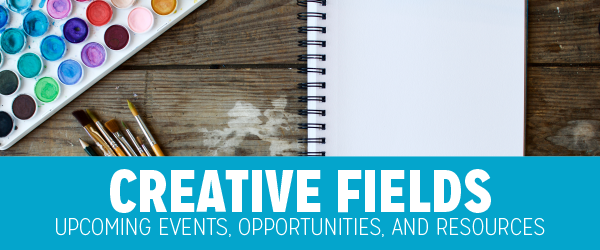 READY, SET…..Jobs!
After a couple of difficult years, it feels so good to say this: May 2022 grads, your job outlook seems pretty darn good. According to the National Association of Colleges and Employers, "employers report that they plan to hire almost one-third (31.6%) more new college graduates from the Class of 2022 than they hired from the Class of 2021." (See the "Article of the Week" for the report summary.)
Next newsletter, we'll talk interview and salary. Fun, fun. Until then, on to the jobs!
Get Resume & Cover Letter Ready
Get Brand Ready: LinkedIn
Follow LinkedIn's Job Search Checklist "to attract employers, grow your professional skills, and connect to new job opportunities through a great LinkedIn profile."
Check out what skills you might need in your chosen industry or job function from LinkedIn's Economic Graph team. (Scroll down the page to "Explore the data.")
It's not too late to learn a new skill FOR FREE courtesy of LinkedIn Learning. Courses you can find on LinkedIn Learning: Google Universal Analytics Training; Search Engine Optimization; Master Digital Marketing; GarageBand Essential Training; Illustrator 2021 Essential Training; Excel: PivotTables for Beginners (and SO MUCH MORE)
Where are other graduates with my major working?

We've long said that major doesn't equal career. (Generally speaking, that is. If you want to be an accountant, probably a good idea to take lots of accounting classes!) To get a sense of the broad array of employers, industries and job functions available to you, check out post-graduation outcomes of previous graduates. Let's look at our 2021 post-graduation outcomes report and filter for "English major." What do you see? I see students who are working in a diverse set of industries – healthcare and internet & software to movies, journalism and management consulting. A strong liberal arts education gives you access to a variety of industries, job functions and employers.
General Job Resources
Industry-Specific Job Resources

Theatre: Playbill, NYFA Jobs, ArtSearch
Performers: Backstage (short-term opportunities)
Publishing: Bookjobs
Marketing: American Marketing Association (and local chapters, like AMA – DC)
Public Relations: Public Relations Society of America
Entertainment: EntertainmentCareers.net (NOTE! Use this as a resource to find open positions and then apply on the employer website – you will escape the fee that way!)
Journalism: JournalismJobs.com
Museums: American Alliance of Museums
Fashion: Business of Fashion
Media and Creative Jobs: MediaBistro
Don't forget USAJobs if you're interested in positions with the federal government! (Government agencies need writers, editors, content creators, marketing specialists, etc.)
Short-Term Projects (when you are waiting for that full-time job offer)
Please note that this is a sampling of jobs and internships with approaching application deadlines. Go to Handshake to see the complete list.
Job and internship opportunities can be found in a variety of places.  Check out Handshake, Indeed, Idealist, LinkedIn, Google, company websites and professional associations. Do not limit your search, and make sure you set job alerts.  And check out Hoya Gateway and LinkedIn for networking opportunities with Georgetown alumni.
Thank you notes that boost your network: tips and examples
Use these tips and sample notes (new window) to stand out in your job search and maintain your network.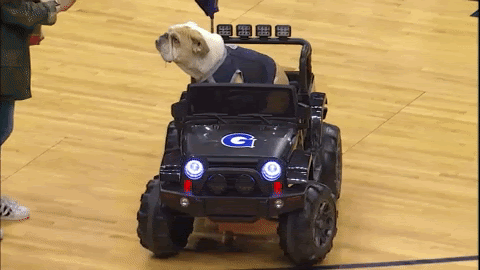 Did you know Georgetown University is one of the top employers of Georgetown students post-graduation?
True!
Check out some of the following opportunities:
Website Note
You are currently viewing a shortened version of this newsletter, leaving out the events and job opportunities from that time. To see the full version, click here.
COLLEGE HIRING SURGES WITH 31.6 % INCREASE
Almost 56% of respondents to NACE's Job Outlook 2022 Spring Update survey indicate that they will increase their college hire numbers and an additional 41% will maintain them.
Industry Advisor: Jacki Banks
jlb49@georgetown.edu
Resources:
Writing Resumes & Cover Letters
Networking Skills
Interviewing Skills
What Can I Do with My Georgetown Major?
Virtual Drop-Ins:
New drop-in hours for spring semester!
Drop-ins will now be available from 9-10AM Tuesday through Friday, 1-2PM Monday through Friday, and 7-8PM Monday through Thursday every week.
Appointments: Virtual appointments are available via Handshake. Sign up under 'Career Center,' then 'Appointments', then 'Industry Advising," then 'Government, Nonprofit, and Education'.