Creative Opportunities Newsletter
Posted in Announcements News | Tagged Creative Fields, Creative Fields Newsletter
April 22, 2022 – Upcoming Events, Opportunities & Resources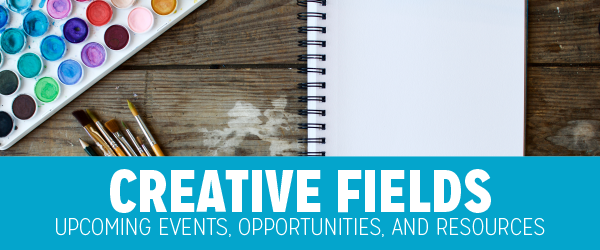 READY, SET…..INTERVIEW!
Let's face it. Interviewing is…not fun. But if you practice, practice – and practice some more – you will get better at it. It's true. I promise.
In this edition, I want to focus on an underutilized resource we have at Cawley: Big Interview.
You can use it to practice behavioral and industry specific interview questions. You can also use it to learn best-practices in interviewing.
Let's start with learning. Once you log into Big Interview, you can choose from a number of options. (Too numerous to cover in this brief section.) I want to draw your attention to the section entitled "Interview Playbooks." (If you're doing this along with me, go ahead and select it now.)
Bingo! Now you're in, check out all the interview best-practice guides at your disposal. (Especially note the one for new graduates.
Let's skip ahead to practicing. Two of the things I love, love about Big Interview: 1) You can practice general behavioral interview questions; 2) You can get super specific practice questions related to your industry/job function. For example. Are you interested in applying for a production assistant position? Well then. You can practice some interview questions with Andy, Liz, Jiyoung or Stacey.
Let's end with the AI Feedback tool. First impression? I like it! I like it a lot. You will be assessed on:
Pace of Speech | Um Counter | Vocabulary | Filler Words | Power Word (Confidence) | Pause Counter | Negative Tone | Length | Authenticity | Volume | Lighting

Finally, you'll be given an action plan based on your performance. (Apparently, my "ums" were a bit distrating, but my language was confident and enthusiastic!)
And that is Big Interview.
**Of course, if you prefer, we have RH mock interviews here at Cawley. (That's "Real Human.") Appointments are available on Handshake.**
Jacki
Website Note
You are currently viewing a shortened version of this newsletter, leaving out the events and job opportunities from that time. To see the full version, click here.
Please note that this is a sampling of jobs and internships with approaching application deadlines. Go to Handshake to see the complete list.
Job and internship opportunities can be found in a variety of places.  Check out Handshake, Indeed, Idealist, LinkedIn, Google, company websites and professional associations. Do not limit your search, and make sure you set job alerts.  And check out Hoya Gateway and LinkedIn for networking opportunities with Georgetown alumni.
'Artists Are Migrants': A Nigerian Irish Dancer's Multiplicities
The Lagos-born, Ireland-raised dancer Mufutau Yusuf comes to the Irish Arts Center with "Owe," a solo, he says, "about my ancestry, my Yoruba heritage." (New York Times / Read Here
Industry Advisor: Jacki Banks
jlb49@georgetown.edu
Resources:
Writing Resumes & Cover Letters
Networking Skills
Interviewing Skills
What Can I Do with My Georgetown Major?
Virtual Drop-Ins:
New drop-in hours for spring semester!
Drop-ins will now be available from 9-10AM Tuesday through Friday, 1-2PM Monday through Friday, and 7-8PM Monday through Thursday every week.
Appointments: Virtual appointments are available via Handshake. Sign up under 'Career Center,' then 'Appointments', then 'Industry Advising," then 'Government, Nonprofit, and Education'.