Creative Opportunities Newsletter
Posted in Announcements News | Tagged Creative Fields, Creative Fields Newsletter
June 2, 2022 – Upcoming Events, Opportunities & Resources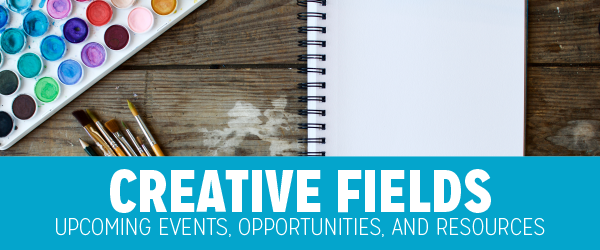 READY, SET…..RELAX!
I know your WHOLE summer will not likely be spent on the beach, casually reading a book, toes in the sand. For many of you, this is when you work to earn money for the academic year AND try to fit in an internship, second job, or volunteer position. (If this is you – and you find yourself exhausted trying to balance it all – schedule an appointment with me, and we'll talk through what's realistic.)
My fondest hope is that you have time to relax. To that end, this edition of the newsletter focuses on learning, a relatively passive activity that works well on days when movement seems all but impossible. (It's 93 in DC today, folks, and The Weather Channel informs me that, with humidity, it feels like 95.)
Check out the cool workshops, trainings and programs below.  If you're up for some additional reading, my TBR includes Future of Skills: LinkedIn's data tells us how jobs are changing, and what skills workers may need to stay competitive in the new world of work and The Uneven Climb From College to Career: Achievement gaps are about more than who goes to college and who graduates (The Chronicle). I'm also planning a deep-dive into Vault. Specifically, I want to explore their internship rankings and their VERY THOROUGH guides to advertising, entertainment, journalism, public relations, performing arts and more. 
Lastly, for those of you who haven't landed a summer internship, DO NOT DESPAIR. When you scroll down to the jobs and internships section, check out the number of summer internships still available. And that's just a few highlighted positions from the total available on Handshake.
Have a wonderful June! The creative newsletter will return in July.
Jacki
Website Note
You are currently viewing a shortened version of this newsletter, leaving out the events and job opportunities from that time. To see the full version, click here.
Please note that this is a sampling of jobs and internships with approaching application deadlines. Go to Handshake to see the complete list.
NYT 88 Books to Bring Your Summer Alive
The season's thrillers, true crime, romances and plenty more will delight readers of all stripes and feathers. Read here.
Industry Advisor: Jacki Banks
jlb49@georgetown.edu
Resources:
Writing Resumes & Cover Letters
Networking Skills
Interviewing Skills
What Can I Do with My Georgetown Major?
Virtual Drop-Ins:
New drop-in hours for spring semester!
Drop-ins will now be available from 1-2PM Tuesdays and Thursdays, and 7-8PM, starting June 2. Undergraduates interested in a 1:1 with Jacki can schedule a 30-minute appointment via Handshake.
Appointments: Virtual appointments are available via Handshake. Sign up under 'Career Center,' then 'Appointments', then 'Industry Advising," then 'Government, Nonprofit, and Education'.