Health & Science Newsletter
Posted in Announcements News | Tagged Health and Science Newsletter
November 2, 2022 – Upcoming Events, Opportunities & Resources
STUDENT SPOTLIGHT: Claire McFadden | SOH '23 | Healthcare Management and Policy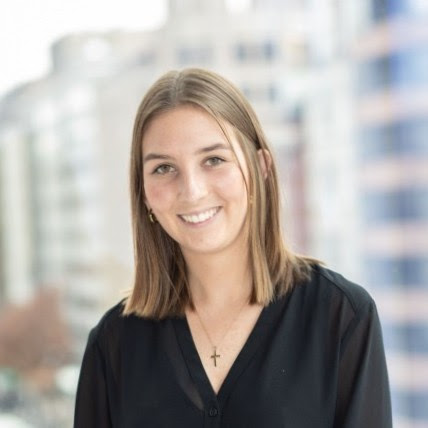 As a Healthcare Management & Policy student, I have been fortunate enough to have three very different internships all of which provided great value to my education and in my understanding of what I want to do after graduation. Towards the end of my sophomore year, I decided to no longer pursue the pre-med track, and I was looking for ways to gain business experiences. Here are some of the ways I did this.
Oaktree Capital Management – Summer 2021
I took an internship with Oaktree Capital Management, an investment management firm, within the Finance Organization as an intern within the Internal Controls group and the Finance Operations group. While this role had nothing to do with the healthcare industry, I gained valuable experience and education in finance and accounting which I naturally did not receive in the classroom with my degree. I was also exposed to things such as financial reporting and the role of internal consulting both of which helped guide me in future internships.
Capitol Street – Junior Year
During my junior year, I decided to search for new opportunities within healthcare consulting. I stumbled upon Capitol Street, a health policy consulting firm in Washington, D.C. I conducted both market research and policy research regarding key financial and policy trends coming out of D.C. This experience gave me an incredible amount of exposure to the world of health policy and just how interconnected our government and healthcare systems is.
Kx Advisors – Summer 2022
I took my experiences in the classroom, Oaktree Capital, and Capitol Street and determined that I wanted to pursue an opportunity at the intersection of healthcare and business strategy. I then decided to intern at Kx Advisors, a growth strategy consulting firm in Washington, D.C. Here, I had the opportunity to research and consult on product development, M&A, and pricing and market access for a number of medical device and pharmaceutical companies.
Each of these three internships provided me with incredible mentors and experiences that ultimately led to my decision to do healthcare growth strategy consulting with Kx Advisors after graduation this spring.
Thank you, Claire, for sharing your internship experiences!
All the best,
Jodi Schneiderman | js4612@georgetown.edu
Assistant Director, Employer Relations and Industry Advising | Health, Science, and Technology
Website Note
You are currently viewing a shortened version of this newsletter, leaving out the events and job opportunities from that time. To see the full version, click here.
Please note that this is a sampling of jobs and internships with approaching application deadlines. Go to Handshake to see the complete list.
What Do Quality Assurance Professionals Do?
Source: Society of Quality Assurance
Are you detail-oriented and notice things like errors on restaurant menus or medicine labels? Do you think about what could go wrong and how it can be prevented? Are you interested in both science and law, and the balance between them? Do you have a strong moral and ethical balance? If you answered yes to any combination of these questions, Quality Assurance could be a great fit for you! QA can cover a variety of industries, including clinical, non-clinical, manufacturing, and more. Read more and watch the 3-minute video (new window)to learn about this career path.
Industry Advisor:
Jodi Schneiderman
js4612@georgetown.edu
Online Resources:
Writing Resumes & Cover Letters
Networking Skills
Interviewing Skills
Industry Resources
What Can I Do with My Georgetown Major?
Drop-In Hours
Drop-ins are Monday – Friday, 1-3pm, in person at Cawley, One Leavey and virtual 6:30-7:30pm on Tuesday and Thursday.
Appointments: Virtual and in-person appointments are available via Handshake. Sign up under 'Career Center,' then 'Appointments', then 'Industry Advising," then 'Health, Science, and Technology'.