Health & Science Newsletter
Posted in Announcements News | Tagged Health and Science Newsletter
January 25, 2023 – Upcoming Events, Opportunities & Resources
Hello Hoyas!
Did you know that we have resources on our website for those interested in behavioral and mental health careers? Click here to learn more about the field, including sample job titles, the difference between various graduate schools (clinical, counseling, social work, and more), and how to gain experience. The article below highlights top earning careers. Be sure to save the date for our Careers in Clinical Mental Health, Counseling, and Psychology panel featuring alums coming up on Feb 13, 6pm. Panelist bios are included in the event link. Last, check out the Government, Nonprofit, and Education Career Fair on Feb 17. There are a handful of organizations in the mental health sector registered.

I am always happy to speak with you about your specific interests and ways to gain experience. Make an appointment on Handshake by choosing industry advising, and health, science, and technology. That's me!
All the best,
Jodi Schneiderman | js4612@georgetown.edu
Assistant Director, Employer Relations and Industry Advising | Health, Science, and Technology
Website Note
You are currently viewing a shortened version of this newsletter, leaving out the events and job opportunities from that time. To see the full version, click here.
Please note that this is a sampling of jobs and internships with approaching application deadlines. Go to Handshake to see the complete list
Please note that this is a sampling of jobs and internships with approaching application deadlines. Go to Handshake to see the complete list.
50 Most Common Interview Questions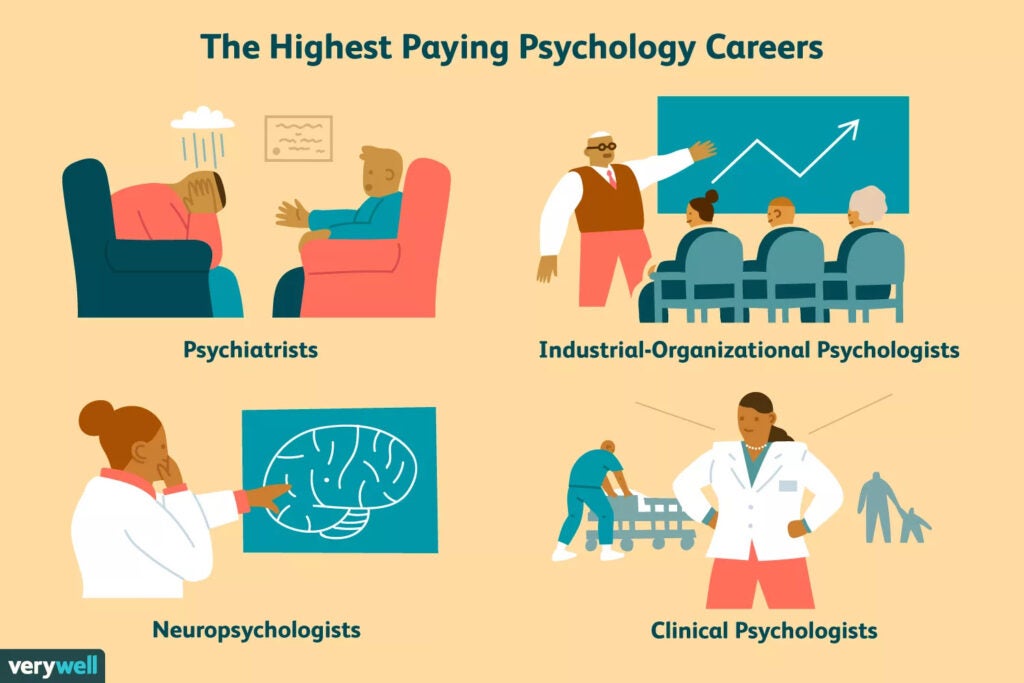 Source: verywellmind
Psychology can be a high-paying job but there is great diversity among professionals, salaries, and yearly earnings. Psychology careers' income can vary based on geographic location, employment sector, educational background, and years of experience. The highest paying psychology careers are psychiatrist, followed by industrial-organizational psychologist, neuropsychologist, clinical psychologist, engineering psychologist, counseling psychologist, forensic psychologist, school psychologist, and finally sport psychologist. Most of these careers require a master's or doctorate degree. Read more here. While money is one important component when choosing a career, how a career may suit your personality and goals in life is also critical to reflect on as you consider career paths.
Industry Advisor:
Jodi Schneiderman
js4612@georgetown.edu
Online Resources:
Writing Resumes & Cover Letters
Networking Skills
Interviewing Skills
Industry Resources
What Can I Do with My Georgetown Major?
Drop-In Hours
Drop-ins are MTThF, 1-3pm, in person at Cawley, One Leavey, and virtual 1-3pm on Wednesday, and 6:30-7:30pm on Tuesday and Thursday.
Appointments: Virtual and in-person appointments are available via Handshake. Sign up under 'Career Center,' then 'Appointments', then 'Industry Advising," then 'Health, Science, and Technology'.