Pre-Law Opportunities Newsletter
Posted in Announcements News | Tagged pre-law
September 22, 2022 – Upcoming Events, Opportunities & Resources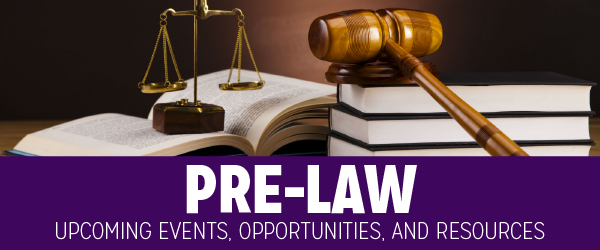 FROM THE ADVISOR:
Everyone likes to hear that they're special, including law schools.  Accordingly, applicants should consider drafting a "Why X Law School" paragraph for the schools that they apply to, unless a school expressly says not to.  This entails explaining why you're interested in a given law school by highlighting specific faculty, research centers, clinics, or other offerings that you would engage should you be accepted.  This shows that you've taken the time to look into a school and lets reviewers know that you have a special interest in the institution they represent.  When writing this paragraph, don't to speak in generalities (e.g., "X school has exceptional resources and unique courses that I would love to take advantage of").  Be specific (e.g., "I'm excited to work with X school's immigrants' rights clinic because of my interest in immigration law").  And there are two ways to include this paragraph in your application.  First, you can make this the closing paragraph of your personal statement.  That is, after you've finished describing why you're interested in law school and practicing law, you can segue to why X school is the ideal place for you to study law and launch your legal career.  Second, you can draft a separate "Why X Law School" addendum.  This would be a standalone paragraph expressing your distinct interest in a given law school.  
Beyond specific guidance for applications, I'd also like to highlight the numerous law school information sessions that are coming up.  Harvard, NYU, Columbia, and Yale will all be visiting our campus this fall.  In addition, Georgetown and UVA will host virtual information sessions.  I encourage all of those interested in law school to attend one or more of these presentations.  Beyond providing information on specific law schools, these sessions will also provide insights into the law school application process generally. 
Now, onto events, jobs, and internships!
Note
You are currently viewing a shortened version of this newsletter, leaving out the events and job opportunities from that time. To see the full version, click here.
Please note that this is a sampling of jobs and internships with approaching application deadlines. Go to Handshake to see the complete list.
Please note that this is a sampling of jobs and internships with approaching application deadlines. Go to Handshake to see the complete list.

Bypass the LSAT? Here's How
(preLaw Weekly)
"LSAC feels the iconic, decades-old test may not be the best option for all prospective law students, and it wants to innovate the law school entrance process. The new program will be more holistic in nature and will target undergrads interested in law school early in their educational journeys."
(Read More)
Distance Learning Gets ABA Bump
(The National Jurist)
"Good news for students who like taking courses from their living rooms. The American Bar Association recently moved to allow schools to increase the number of credit hours a student can take online to one-third of the amount needed for graduation."
  (Read More)
Industry Advisor:
Andreas Kuersten
andreas.kuersten@georgetown.edu
Online Resources:
Writing Resumes & Cover Letters
Networking Skills
Interviewing Skills
Industry Resources
What Can I Do with My Georgetown Major?
Industry Advising Appointments:
Visit Handshake to schedule an appointment with your industry advisor.
Drop-in Hours:
In-Person, Monday – Friday from 1–3PM