Pre-Law Opportunities Newsletter
Posted in Announcements COVID-19 News | Tagged pre-law
January 27, 2022 – Upcoming Events, Opportunities & Resources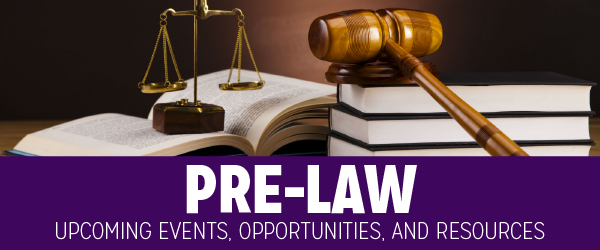 FROM THE ADVISOR:

It's the time of year when applicants are hearing back from law schools. This means that some of you are or will be on the waitlists for schools that you'd very much like to attend. I'd therefore like to once again share what I call the "Waitlist Two-Step" for handling this situation. Yup, it consists of two steps.
First, upon being placed on a waitlist, applicants should shoot off a succinct letter of continuing interest (LOCI) to the school. This should be a very short expression of your appreciation of still being under consideration and your desire to attend the school if admitted. Perhaps note some specific aspects of the school that make you particularly interested in studying law there. The reason this first LOCI is so short is because most schools will not look at the waitlist in terms of vetting potential admits until after the first deadline has passed for already-admitted students to submit their deposits. It's at this point that schools know how many slots they still have to fill for their incoming class.
Second, a few days after the aforementioned deposit deadline, shoot off another LOCI. This one should again express appreciation and interest, but also include academic and professional updates (e.g., grades, students-group achievements, internship/job achievements, awards, etc.). Try to keep a list of these sorts of updates so you have them ready for these types of letters. This is because, from here on out, you want to send a LOCI about every 2-3 weeks expressing appreciation, interest, and updates until something happens with your application (i.e., you're accepted, rejected, or withdraw from consideration). So use your best updates first, but try to keep one or more for subsequent letters. This process will keep you fresh in admissions officers' minds.
I'd also like to highlight an opportunity here, the Lightfoot Pre-Law Program. Last year, Lightfoot launched a pre-law diversity initiative aimed at rising college seniors and incoming law students interested in becoming trial lawyers. The week-long Lightfoot "Trial Academy" will take place June 6-10, 2022 in Birmingham, Alabama. The program provides an opportunity to learn from skilled trial lawyers and gain an understanding of how a litigation firm operates. Future lawyers will have a seat at the table and a chance to work and work one-on-one with Lightfoot's trial lawyers. The application deadline for the 2022 program is March 1, 2022.
Be well! 
Website Note
You are currently viewing a shortened version of this newsletter, leaving out the events and job opportunities from that time. To see the full version, click here.
Article of the Week
As the Pandemic Drags On, Law Professors Are Making Changes
(ABA Journal) Law professors say the pandemic changed how they interact with students…
Read Here
Career Center Resources
Industry Advisor:
Andreas Kuersten
andreas.kuersten@georgetown.edu
Resources:
Writing Resumes & Cover Letters
Networking Skills
Interviewing Skills
What Can I Do with My Georgetown Major?
Virtual Drop-Ins:
New drop-in hours for spring semester!
Drop-ins will now be available from 9-10AM Tuesday through Friday, 1-2PM Monday through Friday, and 7-8PM Monday through Thursday every week.
Appointments: Virtual appointments are available via Handshake. Sign up under 'Career Center,' then 'Appointments', then 'Industry Advising," then 'Government, Nonprofit, and Education'.