Pre-Law Opportunities Newsletter
Posted in Announcements News | Tagged pre-law
September 28, 2023 – Upcoming Events, Opportunities & Resources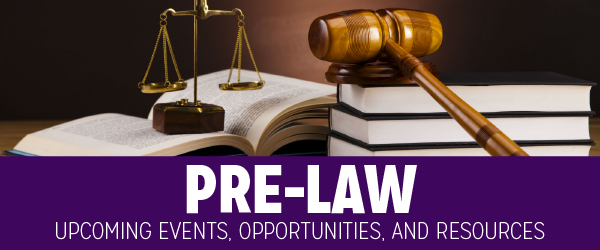 FROM THE ADVISOR:
Hello and happy fall y'all,
Office hours are on the horizon! Starting Oct. 2, I will have weekly pre-law office hours in the career center. These sessions are open to all – feel free to come in with your questions. Check Handshake Events – I'm starting out weekly at 3pm, sometimes on Monday (10/2) and sometimes Thursday (10/12). (Whether or not I maintain a weekly schedule depends on attendance during the first month.) Come on by!
For this season's applicants, some FAQs:
How early is an "early" application to law school? October, right?
Y'all. I will die on this hill. The notion that applying very early produces better admissions and scholarship outcomes is a common misconception. There is no difference in admissions chances between applications completed in October and those completed before December 31. It's a much better strategy to give every component of the application its due time and attention.
How do I get unsolicited application fee waivers?
Opt into LSAC Candidate Referral Service or CRS. This is in your LSAT account; make sure that you've checked yes and that your profile is complete – transcripts, LSAT score, and your intended law school enrollment year. Here you get waivers automatically if your profile matches a school's secret requirements.
Join each school's admissions email list. Sometimes they just email them out.
Attend a law school visit or forum. Sometimes they hand them out there.
What can I do while I wait for an appointment with you?
Return to each school on your list and confirm the requirements to apply for scholarships. Indeed, many will not require any additional materials. But some will be an extra essay, while others will have a completely separate process, often with an early deadline. Don't let those chances pass you by!
Website Note
You are currently viewing a shortened version of this newsletter, leaving out the events and job opportunities from that time. To see the full version, click here.
Spivey Median Tracker
Spivey Admissions Consulting Group is collecting updated law school GPA and LSAT medians for 2023. Continue to check back with this resource as you adjust your school list. Remember, however, that medians are sky-high these days and the 25th percentile is a better indicator of whether or not your application is a contender.

Industry Advisor:
Andrea Lewis
andrea.lewis@georgetown.edu (new window)
Online Resources:
Writing Resumes & Cover Letters (new window)
Networking Skills (new window)
Interviewing Skills (new window)
Industry Resources (new window)
What Can I Do with My Georgetown Major? (new window)
Industry Advising Appointments:
Visit Handshake to schedule an appointment with your industry advisor.
Drop-in Hours:
In-Person, Monday – Friday from 1–3PM