Pre-Law Opportunities Newsletter
Posted in Announcements News | Tagged pre-law
March 24, 2022 – Upcoming Events, Opportunities & Resources
Emailed: 03/24/2022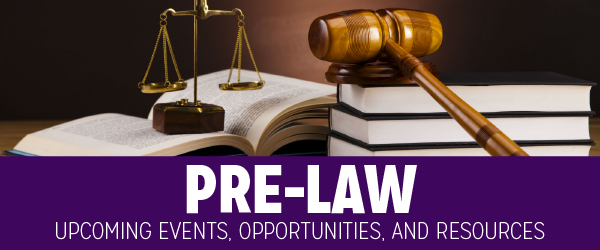 FROM THE ADVISOR:
We're currently in the thick of application season for Georgetown Law's Early Assurance Program (EAP). Keep in mind that your applications must be submitted by April 10th, and be sure to consult our online Pre-Law Guide as you go along to help you draft your materials.
In addition to the EAP, Harvard Law and Columbia Law also offer programs for junior applicants (the Columbia option is also for seniors). Both are now accepting applications; those for Columbia are due by June 1st and those for Harvard are due by July 1st. These programs differ from the EAP in that they both require an LSAT or GRE score and they are deferral programs. The latter means that, if you're accepted, you commit to enrolling two years after you graduate with your undergraduate degree. During those two years, you're expected to undertake some sort of employment, volunteer work, or graduate study. These programs are ideal for those of you who do not wish to matriculate into law school directly upon graduating from Georgetown.
Finally, for those of you who will be beginning law school this coming fall, here are two scholarship opportunities to consider. Barbri offers the One Lawyer Can Change the World Scholarship through which incoming law students can earn $10,000 towards their first year of law school. In addition, the Pipeline to Practice Foundation provides successful applicants who are members of groups historically underrepresented in the legal profession with free access to Barbri's law school prep course and Barbri's bar review course (which aids preparation for the bar exam that law students take upon completing law school in order to practice). Finally, don't forget about AccessLex's Scholarship Databank, which provides an expansive collection of law school scholarships to sift through and apply to.
Be well!
Website Note
You are currently viewing a shortened version of this newsletter, leaving out the events and job opportunities from that time. To see the full version, click here.

I'm on a Law School Waitlist. What Now?
(preLaw) On a law school waitlist, you are still in the running. On a waitlist, you still have some control over your future. Read here
Industry Advisor:
Andreas Kuersten
andreas.kuersten@georgetown.edu
Resources:
Writing Resumes & Cover Letters
Networking Skills
Interviewing Skills
What Can I Do with My Georgetown Major?
Industry Advising Appointments:
Visit Handshake to schedule an appointment with your industry advisor.
Drop-in Hours: Drop-ins are virtual Monday through Friday from 1–3PM.