Pre-Law Opportunities Newsletter
Posted in Announcements News | Tagged pre-law
April 07, 2022 – Upcoming Events, Opportunities & Resources
Emailed: 04/07/2022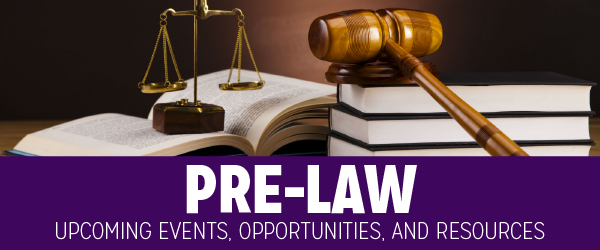 FROM THE ADVISOR:
Do you have the need, the need for speed?  Don't we all!  But if you're looking for speed when it comes to the editing of your documents (e.g., personal statements, resumes, etc.), there's only so fast I can go.  If you have materials that you'd like reviewed before a deadline (e.g., the EAP deadline next week), make sure you send them to me with a couple days as a buffer for me to get them back to you.  In addition, consider stopping by during the Cawley Career Education Center's drop-in hours if you're looking for another set of eyes on your resume.  And take advantage of the Writing Center when it comes to guidance on your personal statement or other essays.  Finally, make sure you're taking advantage of all of our outstanding online pre-law resources.  
Turning to innovative internships, make sure you look into the great offerings from the Georgetown VIEW Program, which aims to provide students with opportunities to develop real world, resume-building skills through short-term project work completed in a virtual environment. Opportunities include:
Don't miss out on these awesome and unique experiences!
Finally, I also want to highlight The CALL, Georgetown's premiere experiential learning program.  Through The CALL's Pre-Law track, students pursue a range of paths within the legal field, gaining experience in a legal-focused internship and through relevant coursework.  This is an ideal opportunity for students, in all majors and schools, interested in attending law school.  Registration is now open for Fall 2022.  Check it out!  
Website Note
You are currently viewing a shortened version of this newsletter, leaving out the events and job opportunities from that time. To see the full version, click here.

How to Decide Which Law School to Attend
(preLaw) For many law school applicants, this is their favorite time of year. At last, the tables have turned. It's about them deciding where to deposit… (Read More)
Industry Advisor:
Andreas Kuersten
andreas.kuersten@georgetown.edu
Resources:
Writing Resumes & Cover Letters
Networking Skills
Interviewing Skills
What Can I Do with My Georgetown Major?
Industry Advising Appointments:
Visit Handshake to schedule an appointment with your industry advisor.
Drop-in Hours: Drop-ins are virtual Monday through Friday from 1–3PM.