Pre-Law Opportunities Newsletter
Posted in Announcements COVID-19 News | Tagged pre-law
January 13, 2022 – Upcoming Events, Opportunities & Resources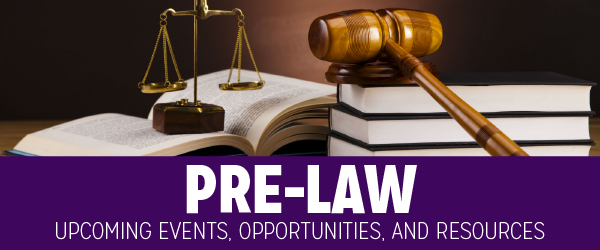 FROM THE ADVISOR:

Welcome back Hoyas!
With the new semester and the new year come a litany of great pre-law opportunities.  To begin with, however, I want to highlight an event.  Georgetown Law admissions officers will be hosting a virtual information session on the Early Assurance Program (EAP) on January 25th.  This is a unique opportunity for junior Hoyas to gain admission to Georgetown Law during their spring semester without having to take a graduate school standardized test (e.g., the LSAT).  Don't miss this chance to hear about the EAP and gets tips for putting together a competitive application from those who evaluate applicants.  Register for the event here. 
Now, onto the opportunities!
First, applications for the 2022–23 Weil Legal Innovators Program are open. This program engages incoming law school students in addressing some of the most pressing social and legal challenges in our communities today.  Each WLI class is comprised of incoming law school students who plan to attend a J.D. program at one of our law school partners. Innovators defer their first year of law school to work at a partner nonprofit organization for a paid public service fellowship, executing a strategic initiative designed to leverage their passion for justice and commitment to public service while amplifying the impact of the nonprofits and their important missions. To learn more about the application process, click here. To apply, click here.  
Second, Florida State University College of Law's Donald J. Weidner Summer for Undergraduates Program is now accepting applications.  The program brings undergraduate students from throughout the country together for a month-long immersion into legal study. The largest and oldest of its kind, the primary goal of the program is to acquaint students with the study of law and to assist them in acquiring skills that will benefit their undergraduate and future law school studies.  The program will be hosted in-person on the FSU campus from June 1–24, 2022.  FSU will provide housing, meals, books, and other program materials, as well as a $500 stipend to participants.  Apply here.  
Third, applications are open for the SEO Law Fellowship, which offers talented, historically excluded, incoming law school students the opportunity to work at a top law firm during the summer before law school.  Fellows have access to an academic and career prep training program, academic tutoring and career support throughout the first year of law school, the opportunity to win a $10,000 or $5,000 scholarship, and access to a network of over 1,700+ alumni, including judges, former U.S. Cabinet members and members of Congress, partners at law firms, and General Counsels.  Apply here.  
Finally, the Columbia Undergraduate Law Review, a journal of undergraduate legal scholarship based at Columbia University, is accepting submissions for its Spring 2022 issue.  The deadline for submissions is Tuesday, February 8, 2022, but you are encouraged to submit before then. The journal welcomes submissions of research articles, senior theses, and essays embracing a wide range of topics and viewpoints related to the field of law.  Undergraduate students in any major, track, or class year should feel free to send in their work.  Submission information is located here.  
As always, if you have any questions or concerns regarding law school or a potential legal career, reach out to your friendly neighborhood Pre-Law Advisor.
Be well!
Website Note
You are currently viewing a shortened version of this newsletter, leaving out the events and job opportunities from that time. To see the full version, click here.
Article of the Week
As Law Schools Admit More Students, Will There be Enough Jobs?
(Above The Law) When determining a strategy as a waitlisted applicant, it's important first to keep in (ABA Journal) There are concerns that the demand to attend law school won't match the supply of jobs. Read here.
Career Center Resources
Industry Advisor:
Andreas Kuersten
andreas.kuersten@georgetown.edu
Resources:
Writing Resumes & Cover Letters
Networking Skills
Interviewing Skills
What Can I Do with My Georgetown Major?
Virtual Drop-Ins:
New drop-in hours for spring semester!
Drop-ins will now be available from 9-10AM Tuesday through Friday, 1-2PM Monday through Friday, and 7-8PM Monday through Thursday every week. 
Appointments: Virtual appointments are available via Handshake. Sign up under 'Career Center,' then 'Appointments', then 'Industry Advising," then 'Government, Nonprofit, and Education'.