Tech & Analytics Newsletter
Posted in Announcements News | Tagged Tech & Analytics News
September 21, 2022 – Upcoming Events, Opportunities & Resources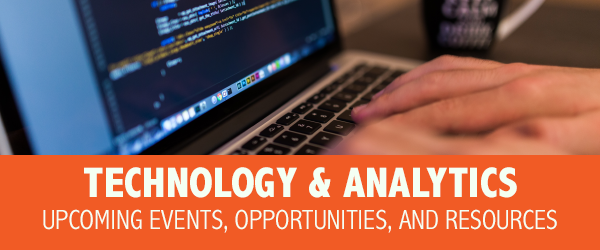 Hello Hoyas!

I often get asked about recruiting timelines in the tech industry. However, there is no simple answer as tech recruitment is not as structured as the consulting and finance industries. Here are a few aspects to keep in mind when it comes to timelines.
First, it very much depends on the size of the technology company. The larger the company, the more robust their university recruiting strategies and the more likely they will start recruiting in fall. For example, large companies such as Google, Oracle, Amazon, and IBM start posting positions in August and September.  Other tech companies, such as Spotify and Meta, typically post positions in late fall or early spring. Mid-size companies are more likely to post positions in early spring, with smaller companies and startups likely to start looking for candidates in late spring.
Second, if you are interested in a functional role in tech and analytics, timelines may vary in terms of what industry you decide to pursue. Certainly, many tech folks or data analysts work in other industries beyond the tech industry, from healthcare to government to finance. Most often, recruitment will still follow the rule above. Yet, plenty of recruitment will take place in the spring, such as in the government and healthcare sectors, to name a few. Some larger companies that post in the fall may even post againin the spring.  
Third, different positions may be posted at different times for the same company.Google gives just one month for the BOLD program with a mid-Oct deadline, and yet, won't start reaching out until December to interview applicants for its STEP program despite posting in early fall. In a past recruitment season, KPMG posted data scientist roles in the fall and software and cybersecurity roles in the spring.
Bottom line is there are internships and jobs available to apply to between August-May. Timelines are not set to a specific time period; recruiting activity varies widely by the industry and company size, not to mention the role you are seeking. And remember: people leave organizations all the time for other jobs and those positions (some being entry-level) will need to be filled when this occurs. Start by saving an advanced search (or multiple) on Handshake in order to receive notifications via email for newly posted jobs or internships that fit your criteria. Also attend drop-ins and/or visit with an industry advisor to discuss job and internship strategies beyond Handshake.
All the best,
Jodi Schneiderman | js4612@georgetown.edu
Assistant Director, Employer Relations and Industry Advising | Health, Science, and Technology
Website Note
You are currently viewing a shortened version of this newsletter, leaving out the events and job opportunities from that time. To see the full version, click here.
Please note that this is a sampling of jobs and internships with approaching application deadlines. Go to Handshake to see the complete list.
Please note that this is a sampling of jobs and internships with approaching application deadlines. Go to Handshake to see the complete list.
Loved Your Internship? Hated It? Still Looking? Use Canary to Share Your Story!

Canary Student is a website for students, by students, where students can post reviews of their internship experiences. They can share the pay they received, give reviews of the work and culture, and share any comments about the substance of the work they performed. This resource can help students look for internships they may not have heard about from their peers, and allow older students to share their wisdom with underclassmen.
Industry Advisor:
Jodi Schneiderman
js4612@georgetown.edu
Online Resources:
Writing Resumes & Cover Letters
Networking Skills
Interviewing Skills
What Can I Do with My Georgetown Major?
Drop-In Hours
Drop-ins are Monday-Friday, 1-3pm, in person at Cawley, One Leavey.
Appointments: Virtual and in-person appointments are available via Handshake. Sign up under 'Career Center,' then 'Appointments', then 'Industry Advising," then 'Health, Science, and Technology'.