Tech & Analytics Newsletter
Posted in Announcements News | Tagged Tech & Analytics News
February 09, 2022 – Upcoming Events, Opportunities & Resources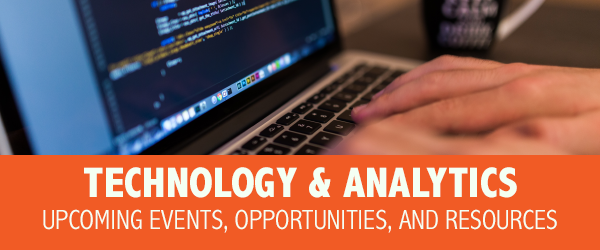 The Government, Education, & Nonprofit Career Fair is just a week away, taking place on Friday, February 18, 10-2pm! Employers in the technology and analytics industry or hiring tech and analytics roles that have registered include Alpha Sights, Gap Solutions, eMazzanti Technologies, Federal Deposit Insurance Corp, Govini, SAS Analytics Software & Solutions, Navy Cyber Warfare Development Group, NSA, NYU Langone Health, Radiance Technologies, Schmidt Futures, Self-Help Credit Union, State of Michigan Department of Treasury, Universal Service Administrative Company, U.S. Government Accountability Office, U.S. Postal Service, and U.S. Intelligence Community.

So, how do you get prepared? Here are some resources to help you.
Try to enjoy the experience.  Best of luck!

All the best,
Jodi Schneiderman | js4612@georgetown.edu
Assistant Director, Employer Relations and Industry Advising | Health, Science, a
Student Industry Ambassador Virtual Drop-Ins
These peers (and more) will be available Feb 14-18 for a virtual chat. Find their name on the tab and register for a time HERE. The SIA will reach out to you and schedule the call via Zoom. Here are industry ambassadors most relevant to your career interests. Can't make it to drop-ins? Reach out to them online via the Cawley website.
Basil Bseiso | Data Analytics intern at MakerSights (FLITE program)
Alex Chen | Software Development Intern at Appian
Alexandra Giorno | Software Intern at Zoom
Beatrice Salas | COVID AMP Research Assistant at Healthcare Data Analytics Inc and Summer Intern at Everyone Can Code
Seo Young Lee | Product Management Intern and Marketing Interns at Tech Startups
Jack Welch | Lead Research Intern at SeedSprint
Website Note
You are currently viewing a shortened version of this newsletter, leaving out the events and job opportunities from that time. To see the full version, click here.
Article of the Week
7 Kinds of Questions to Ask at a Career Fair to Make a Great Impression
Source: The Muse
At a career fair, your goal is to get the information you need to decide if a company or role is a good fit for you, while also leaving a good impression that could help you get one step closer to nabbing that job. Read more for questions you can ask to help you learn more about the role, the hiring process, the person's experience, growth and development, company culture, and/or the organizations, products, services, or recent news.
Career Center Resources
Industry Advisor:
Jodi Schneiderman
js4612@georgetown.edu
Online Resources:
Writing Resumes & Cover Letters
Networking Skills
Interviewing Skills
Industry Resources
What Can I Do with My Georgetown Major?
Virtual Drop-Ins:
Drop-ins are Monday-Friday between 1-3 pm via georgetown.zoom.us/j/417727789. Get connected with an advisor for a 15-minute meeting on a first-come, first-serve basis.
Appointments: Virtual appointments are available via Handshake. Sign up under 'Career Center,' then 'Appointments', then 'Industry Advising," then 'Health, Science, and Technology'.