Tech & Analytics Newsletter
Posted in Announcements News | Tagged Tech & Analytics News
February 23, 2022 – Upcoming Events, Opportunities & Resources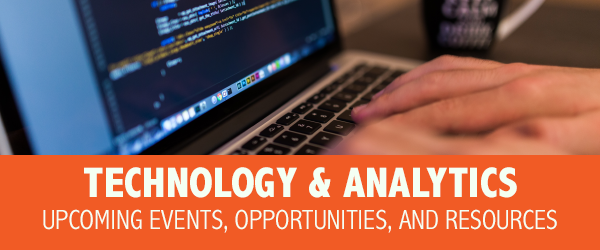 Hello Hoyas!
Are you wondering what the "hot" tech sectors are right now?  This quick read shares 9 trends predicted for 2022 in the startup space. In summary, the author predicts that investors will continue to put their funding into FinTech, BioTech, Crypto, and Cybersecurity, in addition to the up and coming PropTech sector,  which has benefited from pandemic-fueled home-buying and the digitization of office spaces. If you are particularly interested in health and biotech, this article shares trends within this space which include companies focused on gene editing and cell therapy, mental health, and use of AI in cancer treatments. I was surprised to see Climate/CleanTech didn't make the list for 2022 given extreme weather concerns and Biden's environmental agenda. In 2021, there was a lot of hope that tech would take on climate change. 
It is definitely important to consider what  tech is hot, and therefore, what companies will be hiring. And yet, I also hope you consider where your curiosities lie. What kind of data do you want to analyze? What kind of software do you want to build or market?  Don't forget to find and apply to tech companies that excite you.

All the best,
Jodi Schneiderman | js4612@georgetown.edu
Assistant Director, Employer Relations and Industry Advising | Health, Science, and Technology
How to Succeed as a Woman in Tech, From Those Who Have Done It
Source: The Muse
Tech has long been an industry in which women are underrepresented, but that finally seems to be changing, as the number of women technologists grows every year. In this article, 11 women in the field share their tips for those aspiring to get into the field. Tips range from finding a good mentor to learning to speak up to finding work that means something to you.
Website Note
You are currently viewing a shortened version of this newsletter, leaving out the events and job opportunities from that time. To see the full version, click here.
Industry Advisor:
Jodi Schneiderman
js4612@georgetown.edu
Online Resources:
Writing Resumes & Cover Letters
Networking Skills
Interviewing Skills
Industry Resources
What Can I Do with My Georgetown Major?
Spring Drop-In Hours
Drop-ins are in-person from 1-3pm Monday-Friday.
Appointments: Virtual appointments are available via Handshake. Sign up under 'Career Center,' then 'Appointments', then 'Industry Advising," then 'Health, Science, and Technology'.