Tech & Analytics Newsletter
Posted in Announcements News | Tagged Tech & Analytics News
March 30, 2022 – Upcoming Events, Opportunities & Resources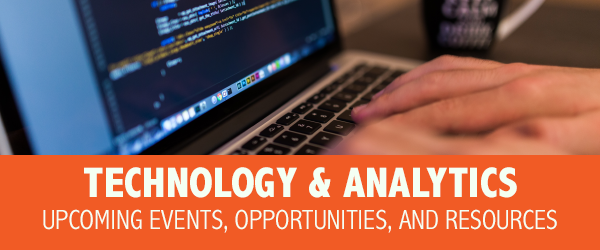 ALUMNI SPOTLIGHT
Christopher Kennedy (NHS '14)
Enterprise Account Executive, Tableau
Major: Healthcare Management and Policy
What activities did you participate in while attending GU that you found the most valuable and why? Georgetown University Grilling Society (disguised as a grilling club) is a family that welcomes any Hoya who would like to join. The Corp- IT+M and Vittles allowed me to meet people from all different talents and backgrounds across the Corp, all while getting to interface with the student body on a regular basis. The close-knit community and the incredible staff of the NHS is unmatched.

What does a typical day or week look like? I cover 12 tech companies located on the East Coast. No two days are alike, which I find to be one of the most attractive aspects of Tech Sales. A typical day is filled with meeting (largely virtually) with prospects or clients on their use cases, speaking with C-Level Executives on aligning our product value to their company's strategic initiatives, prospecting for future business within my accounts, and forecasting deal cycles to my leadership.

What skills are most needed in the job you work? It is no secret that a career in Sales requires working well with others. Additionally, being in Sales allows you autonomy; you have to create a plan and have structure to your methods. Your success is largely dependent on the effort you put forward. Critical thinking, grit, and getting out of your comfort zone are all skills that pair well with a career in Tech and more specifically, Tech Sales.

What are the best ways for students to learn more about your industry? Keep an open mind and explore 'against the grain' career choices or paths! There are hundreds of amazing tech companies that exist today; staying informed on evolving trends in the market requires being curious, reading blogs/reports such as TechCrunch, and not being afraid to connect with Alumni (we want to help if we can!).
All the best,
Jodi Schneiderman | js4612@georgetown.edu (new window)
Assistant Director, Employer Relations and Industry Advising | Health, Science, and Technology
Please note that this is a sampling of jobs and internships with approaching application deadlines. Go to Handshake to see the complete list.
Please note that this is a sampling of jobs and internships with approaching application deadlines. Go to Handshake to see the complete list.
Website Note
You are currently viewing a shortened version of this newsletter, leaving out the events and job opportunities from that time. To see the full version, click here.
Volunteering, Teaching, and Working Abroad
Did you know Cawley has a website page with resources on volunteering, teaching, and working abroad?  This page provides factors to reflect on as you consider your options, resources to help you conduct more research, and specific programs to look into.  A few favorite resources include this article on the six countries that U.S. citizens qualify for working holiday visas (for post-graduate) and the internship abroad program, AISEC.
Industry Advisor:
Jodi Schneiderman
js4612@georgetown.edu
Online Resources:
Writing Resumes & Cover Letters
Networking Skills
Interviewing Skills
Industry Resources
What Can I Do with My Georgetown Major?
Spring Drop-In Hours
Drop-ins are in-person from 1-3pm Monday-Friday.
Appointments: Virtual appointments are available via Handshake. Sign up under 'Career Center,' then 'Appointments', then 'Industry Advising," then 'Health, Science, and Technology'.