Tech & Analytics Newsletter
Posted in Announcements News | Tagged Tech & Analytics News
June 7, 2022 – Upcoming Events, Opportunities & Resources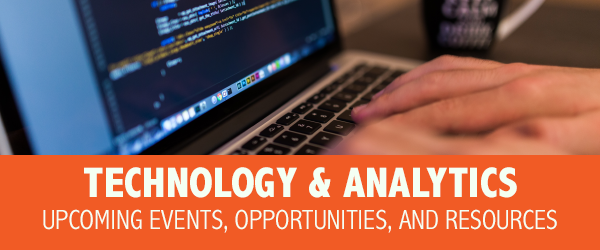 Hello Hoyas!
It's officially summer break! I have big hopes that you are relaxing in some way (or all the way). Here are a few fun facts and updates for you.
First, I love stats by the National Association of Colleges and Employers.  Did you know that 51.8% of interns are converted to full-time hires? Internships are a great way to develop skills, learn the industry, AND secure a post-grad position. Also, according to NACE, the mean hourly rate for bachelor's level interns is $20.82. Good news for some of you…yet, stinks for those of you interested in the nonprofit and public service sector, where internships are often unpaid. Next year, be on the lookout for scholarships. We have a l (new window)isting of Cawley-sponsored programs and scholarship sites (at the bottom). Last, 43.5% of employers report they screen candidates by GPA. That's less than I expected.  And while NACE doesn't say more, often, this means they are looking for a 3.0 or above. Be sure to include your GPA on your resume if your GPA is at least a 3.0.
On a disappointing note, did you see that many companies in the tech industry are on a hiring freeze or even laying off employees? It's not great news to share but I want to prepare you. Reasons cited are the COVID pandemic and over hiring during periods of rapid growth, per this article, which also shares tech companies undergoing layoffs. Try not to fret too much as plenty of companies will still continue to hire. On Handshake's list of top 100 companies hiring, these five tech companies make the list: Amazon (no surprise), Tata Consultancy Services, Siemens, Neo Prism Solutions LLC, and FIS. Of course, all industries need tech and analytics skills, in addition to non-tech skills. Psss, look at healthcare. Though slightly outdated by 6 months, I recommend this read about the top industries hiring data analysts.

Are you interested in a remote internship during the school year? Get ready to apply in July for the Virtual Student Federal Services Program. This program provides a remote, 10-hour per week internship over the academic year. I will share more details on how to apply in the July newsletter. There will be plenty of internships utilizing tech and analytics skills. If you are eager to get started, the first step is to build your federal resume on usajobs.gov.
All the best,
Jodi Schneiderman | js4612@georgetown.edu
Assistant Director, Employer Relations and Industry Advising | Health, Science, and Technology
Please note that this is a sampling of jobs and internships with approaching application deadlines. Go to Handshake to see the complete list.
Please note that this is a sampling of jobs and internships with approaching application deadlines. Go to Handshake to see the complete list.
Website Note
You are currently viewing a shortened version of this newsletter, leaving out the events and job opportunities from that time. To see the full version, click here.
6 Ways to Make the Most of a Remote
Source: Handshake
This article shares ways to maximize your experience as a remote intern (or volunteer) in terms of making a positive impression and learning the most about your career path. Learn how to set boundaries, find time to connect with mentors, practice over-communication, ask for feedback, document achievements, and ask for a letter of recommendation.
Industry Advisor:
Jodi Schneiderman
js4612@georgetown.edu
Online Resources:
Writing Resumes & Cover Letters
Networking Skills
Interviewing Skills
Industry Resources
What Can I Do with My Georgetown Major?
Summer Drop-In Hours
Drop-ins are held virtually from 1-2pm Tuesdays and Thursdays.
Appointments: Virtual and in-person appointments are available via Handshake. Sign up under 'Career Center,' then 'Appointments', then 'Industry Advising," then 'Health, Science, and Technology'.