Careers in Consulting
Topics Covered in This Guide
Consulting Recruiting Presentation
Background
Consulting is a broad term that, in its most basic form, is the work of solving business problems on behalf of clients. Employers from the private, public and social sectors hire consultants to help them increase efficiency and revenues, reduce spending, or plan for future success.
Consulting is a team-oriented and relational profession that requires you to work with others on project or case teams to build rapport with clients, understand their needs, conduct due diligence, and offer recommendations for change and implementation. Consultants typically work on projects for 3-to-6 months at a time and many firms require the work to be done on the client site Monday through Thursday, which often involves intense travel.
Read below for more information on how recruiting in consulting works. You also have the option of
Types of consulting
1. Management/Strategy Consulting Firms
Management consulting firms provide strategic or operational advice to organizations that span a variety of industries. The top three management consulting firms are often referred to as "MBB," or McKinsey, Bain, and Boston Consulting Group (BCG). Other major management consulting firms include Accenture, Kearney, and L.E.K. Consulting.
2. Big Four-Affiliated Consulting Firms
The Big Four firms (Deloitte, PwC, EY and KPMG) who each have robust accounting practices, have ramped up their advisory offerings, providing strategic business and operations services to many of the same clients served by the MBB consulting firms.
3. Niche/Boutique Consulting
Boutique consulting firms typically specialize in a particular industry, process, or type of consulting. Types of boutique consulting firms with sample firms that have hired Georgetown students in the past include: Charles River Associates, Navigant Consulting, NERA Economic Consulting, and Heidrick & Struggles.
Information Gathering
Given the variety of consulting firms out there, it is important to research firms that you are interested in, and start early. As you attempt to distinguish among the many opportunities that exist, consider the primary type of work done by the firm. Also consider how the work is performed. Is there travel involved? How are projects staffed? What is the composition of a project team? Will you be staffed on one project at a time or more than one? What is the average project length? Finally, you should learn as much as you can about the culture of each firm. Figure out what elements of culture are most important to you and use those to find your fit.
To stay on top of the industry, make it a habit to read trade publications and popular websites. Websites such as The Wall Street Journal and Bloomberg are good resources, even if you're not interested in finance. Many firms like McKinsey and Deloitte regularly publish white papers, which can be a great way to get a pulse on industry trends as well as the firm's approach to solving problems. Firsthand, available to Georgetown students for free through the career center's website, is another good place to research consulting companies.
Select Resources
Here are some other places to stay informed about the consulting industry.
Making Connections & Networking
The good news about consulting is that there are many events and opportunities that take place on campus at which you can learn about the industry. Every year, consulting employers host information sessions, case interview workshops, coffee chats, and networking events.
Develop a LinkedIn profile that communicates your personal and professional brand while also highlighting your skill set. Networking with people in the industry is a great way to find mentors and contacts, and ask questions. Reach out to alumni through Hoya Gateway, Georgetown's alumni page on LinkedIn, and Georgetown University's Alumni Career Network. Check out our networking guide for more information on how to get started.
For Fall of 2021, the following students can assist with sharing background information on consulting and helping you prepare for case interviews. You can find and reach them on Hoya Gateway.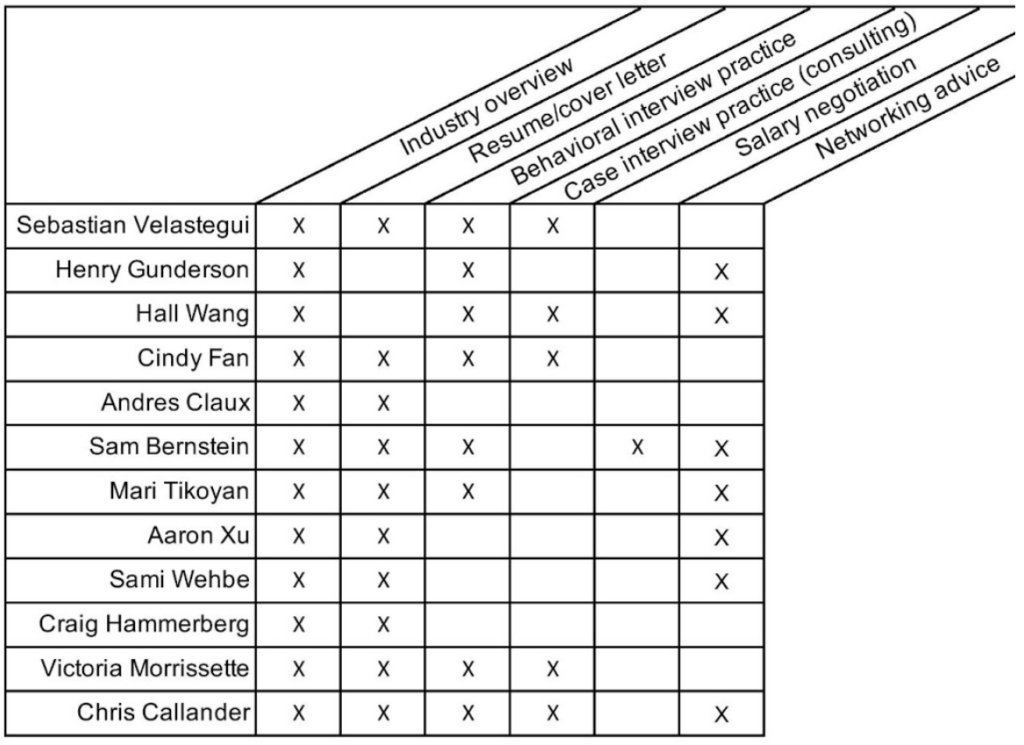 Joining a student organization is another excellent way to learn more about the industry, develop your skills, and get hands-on experience. Georgetown offers a number of opportunities for Hoyas to get involved in consulting. Check out Hilltop Consultants, Innovo Consulting, and DCivitas.
Preparing Materials
As a consultant, you can work with clients from any industry. Consultants are hired for their ability to solve problems. As such, problem-solving is an important trait to demonstrate in your resume and cover letter. Other attributes to highlight about yourself include leadership, teamwork, and analytical abilities. The great thing about these characteristics is that they can be developed in any kind of experience. You can demonstrate these qualities whether you work on Capitol Hill for a semester or by conducting research with a professor.
One of the unique components of consulting is how the industry uses cases in their interview process. Cases are generally pared down, simplified versions of previous client projects that a company has worked on. There is no right answer to the case interview. What's more important is that you master thinking on your feet and verbally communicating your problem-solving process for the interviewer. If you want to learn more about case interviewing, check out our case interviewing guide.
ResumeWorded – this is an AI-based platform that can provide instantaneous feedback on your resume. It also provides toolkits and templates for your job search, networking emails, application materials, etc.
Applying
Many firms offer internships to Georgetown students. However, while internships in consulting provide valuable professional experience, they are not imperative in order to land a full-time post-graduation job. Internships in both the private and public sectors allow you to see the client perspective, which is valuable to consulting firms. In addition, while consulting firms regularly recruit for interns on campus, the majority of hires are seniors for full-time positions.
At Georgetown, many of the consulting firms participate in on-campus interviewing. The process typically begins in the first month of the fall semester, with a presentation for students to hear from company representatives and do some networking. Applications for both internships and full-time opportunities are then submitted through Handshake and on the company's website. Once the firms have selected candidates, they will proceed with a few rounds of interviews. The first round, often held on campus, consists of a behavioral or fit interview as well as a case interview. The subsequent round(s) generally include multiple case interviews at the company office with individuals at multiple levels of the firm (e.g. associates, managers, and partners).
Interviewing
The biggest differentiator between consulting interviews and interviews in other industries is the case interview. The case interview is an interview in which you, the interviewee, plays the role of the consultant and the interviewer plays the role of the client. You must then walk through a real-world scenario, or "case," to try to solve the business problem the consultant is facing. The purpose of the case interview is to see how you would potentially interact with a client, think on your feet, and to measure your current level of business acumen.
Case interviewing is a skill that needs time to develop; it's not a test that can be crammed for the night before. The Cawley Career Education Center offers a case interview workshop each semester. We recommend you begin preparing for case interviews weeks, if not months, before interviews begin. If you have missed the workshop for the semester, you can also use these resources:
Select Employers
Management Consulting
These are the three largest and most prestigious consulting firms in the world. Together, they are known as "MBB."
McKinsey and Company
Bain & Co.
Boston Consulting Group
Big 4 Consulting
Public Sector Consulting
Accenture
Booz Allen Hamilton
The Bridgespan Group
Deloitte Consulting
EY
PwC
Human Resource Consulting
Accenture
Aon Hewitt
Deloitte Consulting
Huron Consulting Group
Mercer LLC
Towers Watson
ZS Associates
Healthcare & Pharmaceutical Consulting
Accenture
The Advisory Board
Amundsen, an IMS Health Company
Health Advances
Litigation & Economic Consulting
Accenture
Analysis Group, Inc.
Berkeley Research Group, LLC
Charles River Associates
Cornerstone Research
Edgeworth Economics
Navigant Consulting
NERA Economic Consulting
Financial Consulting
Accenture
FTI Consulting
First Manhattan Consulting Group
Oliver Wyman
Information Technology & Operations Consulting
Accenture
Capgemini
Deloitte Consulting
IBM
SAP
FAQ's + 2021 Information