Finance Industry Guide
Finance is one of the more popular industries in which Georgetown undergraduate students enter. However, it is not an easy industry to break into. Review this guide to start your journey of learning how to navigate the recruiting process.
Topics Include:
Finance Recruiting 101
What Is Finance?
"At its core, working in the finance industry means to be involved in managing and moving money within a variety of different environments and scenarios. The main areas of the banking industry as it pertains to financial services include commercial and investment banking, sales and trading, portfolio management (e.g. hedge funds, mutual funds, wealth management), and private equity.
Other areas under the umbrella of finance can also include accounting, insurance, real estate, and such.
Companies that take on this responsibility vary greatly in size, from the behemoths of the industry to smaller companies with sizable funds. Working in finance goes beyond Wall Street and allows an individual to gain deeper insight into corporations, government entities, and non-profit organizations."
Read More: What Is The Financial Services Sector | Investopedia (new window)
Why Is the Industry So Popular? What are the Drawbacks?
Pros: High starting salary; extensive training programs; and very well-defined career path. Most people will stay in finance for about 2 years before moving on to a different bank or role, referred to as "exit opportunities" or "exit ops."

Cons: Very long hours (80-100 hrs per week), being available to your boss anytime day or night, little room for career development or movement outside of the very well-defined path you started in as an intern.
How to Break In
Start by listening to a pre-recorded webinar for an overview of the biggest divisions that Georgetown students recruit for within finance as well as how to navigate recruiting.
1. Gather Information
Industry Research
If going down the path of finance is of interest to you, doing research about the industry by reading trade publications, newsletters, and popular websites is a great place to start. Did you know that The Wall Street Journal has been in publication since 1889? There's a reason for that; it is an excellent source of financial news and information for well over a century.
Check out these websites for additional information:
Other websites to peruse include: Bloomberg, Barron's, and Seeking Alpha.
By diving into content from these kinds of sources, you will not only learn key industry terms (MA, IPO, stock, bond, etc.), but your understanding will deepen as you witness how they play out in the context of real companies and deals in the marketplace. You will also develop an awareness of what's happening on a macro- and micro-level scale that provides greater context to financial concepts.
Narrow Down Your Career Path
Because the finance and banking industries are multi-faceted, there are a variety of careers available to you. The main categories are investment banking, sales and trading, research, and wealth/portfolio management, but there are a myriad of positions within each category depending on the bank. Each practice offers a unique experience depending on whether you're front-office, back-office, or somewhere in-between. Websites such as Mergers and Inquisitions, eFinancial Careers and Wall St. Oasis offer valuable perspectives about the differences between sales and trading, wealth management, investment banking, and the like. Firsthand (available to Georgetown students for free through the career center's website), is another good place to conduct industry and company research. And of course, you can always learn about companies straight from the source by visiting their websites and attending their events on campus, which can be found on Handshake (new window). Doing this sort of research will allow you to get a new perspective on where your interests and skills may fit best in the industry while also learning about the culture of different firms and their teams.
Attend Information Sessions
Financial Services firms recruit in a very specific, very rigid way. Information sessions and other recruiting events for the internship-before-senior-year will take place during the spring of your sophomore year. Yes, that is a correct sentence: recruiting begins about 18 months before your internship begins.
Plan on attending at least one event held by each firm you're interested in. Follow the application instructions outlined by the firm carefully, meeting all required dates and deadlines on all web platforms (Handshake AND company website) specified by the firm. The amount of time between when a firm holds an information session and when applications are released varies by company. Keep track of this information in order to stay on top of the process.
Network, Network, Network
In no other industry is networking more important than in financial services. While networking with higher ups is fine, the most powerful people in terms of hiring at a bank are first and second year analysts, as they are the individuals you will be working closely with if you enter the firm. You can find Hoyas in these positions on LinkedIn, the Alumni Career Network and in Hoya Gateway. It is important to reach out, introduce yourself, find out what the alum does in their role and how they describe the culture of their particular bank. Conversations can be 15-20 minutes long, but are vital in determining who gets an interview or not.
Also, consider others in your network – faculty members, family and friends, former classmates who are now working in the industry – and reach out with questions!
2. Prepare Your Materials
Just like for any job, you will want to tailor your resume and cover letter based on the needs of a position. Finance is no different. Although each division is different in what they contribute to a firm, some of the common, overlapping traits they look for include interpersonal skills, quantitative analysis, and attention to detail. And while you don't need to have a business background in order to successfully go into finance, mastering financial concepts is a must to demonstrate your understanding. Come to Cawley for a drop-in appointment any time Monday through Friday between 1pm and 3pm to get a resume or cover letter review. Visit the Interviewing section of our website (new window) to review and practice general questions.
3. Navigate the Hiring Process
Apply
Most banks will require that you apply on their website. Each website will want you to set up an account, which can be a tedious process. However, it is an important step because it puts you on the bank's radar for recruiting events and deadlines that may not be advertised in Handshake. Take the time early in the process to set up your account on each of the bank's website and carefully track their deadlines.
Many applications are reviewed on a rolling basis. So just because a deadline is listed, don't assume the bank will wait to begin reviewing resumes and interviewing candidates until after the deadline. Be sure to always check Handshake AND the company's website for event and deadline information!
Interview
Plan on participating in two rounds of interviews: a first-round, which may take place on campus or at the firm's office, and a second round called a "Superday." A Superday is a series of 30-minute interviews back-to-back, usually at the firm's office. Firms are not only testing you on what you know, but also on your endurance. And will solicit feedback from all of the various interviewers.
We also recommend that you do a mock interview. If you're interested in a mock behavioral interview, you can go to Handshake and sign-up for a half-hour interview with a number of Cawley staff and peer advisors. These mock behavioral interviews are for anyone interested in any industry. If you would like to practice technical questions, we recommend you reach out to a senior via HoyaGateway (new window) who can assist, including: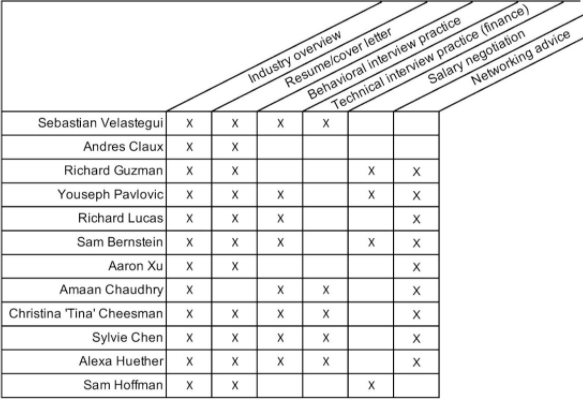 Offers
Offers are often given within 24 – 72 hours after a Superday. The Cawley Career Center asks all employers (new window) to give students at least two weeks to consider whether or not to take an offer. However, many times banks will have a decision deadline that is before another bank's application deadline. It is important for you to know ahead of time who your top firms are and whether a given offer is right for you. Banks are competing for top talent and know that you are interviewing with multiple firms. Keep in mind that backing out of an internship offer after you have already accepted it (usually in favor of a "better" offer) is called "reneging" and it's not ok (new window).
Making Connections
We are repeating this paragraph because it is so vital in the recruiting process: In no other industry is networking more important than in financial services. While networking with higher ups is fine, the most powerful people in terms of hiring at a bank are first and second year analysts, as they are the individuals you will be working closely with if you enter the firm. You can find Hoyas in these positions on LinkedIn, the Alumni Career Network and in Hoya Gateway. It is important to reach out, introduce yourself, find out what the alum does in their role and how they describe the culture of their particular bank. Conversations can be 15-20 minutes long, but are vital in determining who gets an interview or not.

Consider others in your network – faculty members, family and friends, former classmates who are now working in the industry – and reach out with questions!
Summary
While internships are useful in landing full-time employment in other industries, participating in internship recruiting is imperative in landing a full-time position in the industry. Most firms aim to secure 85% or higher of their full-time class from the previous summer's intern pool. In addition, financial services firms, and in particular the bulge bracket banks, are notorious for early recruiting. As of today, bulge bracket firms recruit students during the spring of their sophomore year for internships scheduled for the summer after their junior year, a full 14-18 months ahead of the internship's start date. So how should students go about preparing for this process?
Identify a list of target companies and apply to positions both on Handshake and on company websites. Review the Firsthand guides for lists of top firms and overviews of culture and opportunities. Read our first destination reports, which contain specific information about companies that hired Georgetown seniors. Search Handshake as well as company websites to identify organizations and opportunities.
Learn the various parts of a bank. Many students assume that the only division of a bank is investment banking. There are many divisions in a bank that also provide excellent careers and may be a better fit for you. Learn the pros and cons of each.
Meet with the Cawley Career Center for tailored feedback and recruiting updates. Appointments can be made on Handshake.
NETWORK, NETWORK AND NETWORK SOME MORE.
Practice interviews, and be able to answer technical questions (as found on the resources above). You should be able to answer the questions, "Why are you interested in financial services?" and "Why are you interested in working for our firm?" These two questions cause many Georgetown students to stumble. You should not only be able to articulate the tie between your skill set and what the bank is looking for in that position or division, but also genuinely express what makes the bank stand out amongst its peers.
Sample List of Firms
Bulge Bracket Banks
Bank of America
Barclays
Citi
Credit Suisse
Goldman Sachs
Morgan Stanley
UBS
Middle Market Banks
BMO Capital Markets
BNP Paribas
Canaccord Genuity
Cantor Fitzgerald
Houlihan Lokey
Jefferies
Mizuho Financial Group
RBC Capital Markets
Robert W. Baird
Stifel
William Blair & Company
Boutique
Blackstone
Centerview Partners
Evercore
Perella Weinberg Partners
FAQ's
What timelines do I need to be aware of for Summer '22 internships?

Rising Sophomores: there are a few sophomore analyst programs for Summer 2022 that you can apply for (Morgan Stanley + Citi currently have open positions on Handshake). Note that these are highly competitive.
Rising Juniors: As you head into the fall, we are coming up on the final round of open applications (Goldman Sachs, BAML, Barclays, etc.). Make sure to apply early as applications are rolling. Your first-round interviews and superdays are likely to take place throughout the fall semester.
Rising Seniors: While some full-time roles have opened, more of them will go live around mid-August, once summer analysts have either accepted or declined their offers, and HR needs to determine how many more full time analysts they need to hire to fill workforce needs.

What firms currently have applications open?

The dates will change depending on when you read this, but as of summer of '21, Goldman Sachs, Bank of America, Barclays, UBS all have live applications. Firms like Citi, RBC, and BMO all recruited earlier during Spring 2021. There will be middle market firms that have opportunities open (there's many of them and we don't have a list – you should look on Handshake and on their company websites to stay updated).
Please note that financial firms very often do not tell Cawley when their applications are open; it is on you to do the research and stay on top of it. This is how it's worked for many generations of students who've successfully gone into finance.

Can you give me a spreadsheet of all of the deadlines and recruiters' names & emails?

We get this question all of the time and unfortunately we cannot do this. Deadlines and recruiters change so often in finance, that even if we tried to put a spreadsheet together, it would be out of date as soon as it's complete. In addition, different divisions within banks often recruit at different times.

We recommend that you start your own spreadsheet (or Asana table, or other information management tool) and:

Set up accounts on your banks-of-interest's sites and track event dates and deadlines for the banks and divisions you are specifically interested in,
Look on Handshake and LinkedIn for contact information,
Check these platforms weekly for changes.

What do I do if I'm a senior who wants to recruit full-time?

Please understand that there is essentially no senior recruiting. It is very rare for a bank of any size to recruit seniors in the same way that sophomores and juniors are recruited. While it's not impossible for a senior to land a role at a bank, it is almost always done through networking rather than the traditional recruiting process. So….
Network heavily. Full-time roles with the finance firms are not broadcasted like their summer analyst opportunities are. If you want a full-time job at a bulge bracket or middle market firm, you have to put in the work to cultivate some relationships with alumni in the firm. This will be the best way for you to make your case of why you deserve the opportunity to interview and the skills you possess.

What resources do you have for finance technical interviews?

Make sure you study up on financial concepts like: general accounting principles, the three financial statements, discounted cash flows, leveraged buyouts, etc. Many students find that Mergers and Inquisitions (new window) has many helpful resources. Wall Street Prep also has a great resource you can use.
Reach out to seniors who have been there, done that, and can tell you how to best answer these questions. You can find seniors on Hoya Gateway (new window).

Can I schedule an appointment with Julia?

Julia is transitioning from her old role as an industry advisor into an outreach and DEI-related role at Cawley. You can check out this short-term support document with resources and alumni who are happy to answer your industry-related questions. If you would like to speak with someone please email careercenter@georgetown.edu (new window) for a referral and to make an appointment.