What Can I Do with My Government Major?
Overview
Students majoring in government will engage in the systematic study of government and of political structures, processes, and policies. Government majors utilize quantitative, historical, and philosophical approaches. This diverse field encompasses American government, political theory, international relations, and comparative government.
Through the development of writing, analytical and critical thinking skills, the government major will be prepared for jobs in and out of government. Government jobs exist at the federal, state and local levels. Relevant positions are also available in nonprofit organizations and the business sector. A major in government is a strong background for advanced study in a variety of fields, including law, political science, history, and public policy.
Skills
The study of government allows for the development of a core set of skills sought after by employers in a wide range of occupational settings. A sample of representative skills and abilities follows.
Critical Thinking
Synthesizing themes from diverse source
Ability to interpret social and political data
Integrating of theory and practice
Communication
Public speaking
Presenting written information clearly and concisely
Ability to express multiple viewpoints
Research
Research design, implementation and evaluation
Examination of theory
Ability to utilize various online research resources
Sample Internship Opportunities
Communications/Media (e.g., Public Strategies Inc.)
Congressional Offices (e.g., Local and national offices of U.S. Senators or Congressmen/women)
Education (e.g., Curatorial, Research, Historical, Public Affairs, Naval Historical Center)
Government Consulting Firm (e.g., KPMG, Deloitte and Touche)
Nonprofit/NGO (e.g., Pathways for Mutual Respect, Oregon Bus Project, Partners for Livable Communities)
Lobbying Firms (e.g., Downey McGrath Group, Inc., Carmen Group, Cassidy and Associates)
State/Local Government (e.g., State congressmen or senators/ local councilmen)
Political Action Committee (e.g., American Israel Public Affairs Committee)
Think Tanks (e.g., American Enterprise Institute, Center for Strategic and International Studies)
Where are Georgetown Government Majors Now?
Post-graduation employer industries — government majors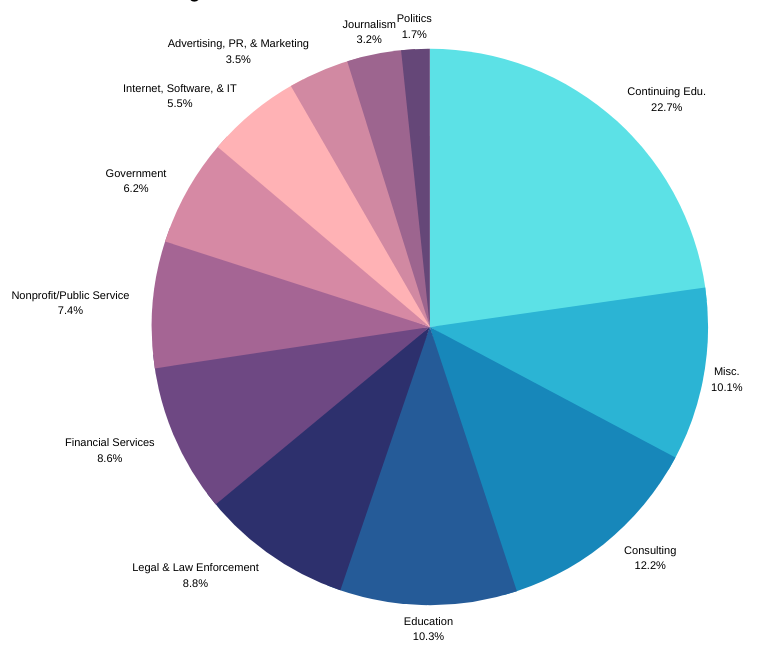 Based on first post-graduation jobs of Georgetown graduates majoring in government, 2010–2019

| Industry | Percentage of government alumni |
| --- | --- |
| Consulting | 22.7% |
| Education | 10.3% |
| Miscellaneous | 10.1% |
| Legal/law enforcement | 8.8% |
| Financial services | 8.6% |
| Nonprofit/public service | 7.4% |
| Government | 6.2% |
| Internet, software, IT | 5.5% |
| Advertising, PR, Marketing | 3.5% |
| Journalism | 3.2% |
| Politics | 1.7% |
| | |
Her are some of the post-graduation jobs of government majors
Campaign Worker
Lobbyist
Political Consultant
Policy Analyst
Urban Planner
Intelligence officer Fundraiser
Program Manager
Volunteer Coordinator
Grant Writer
Journalist
Immigration Agent Paralegal/Legal Assistant
Regulatory Specialist
Public Affairs Specialist
Research Assistant
Lawyer
Affirmative Action Agent
Relevant Websites and Publications
Publications available through the Career Education Center: "The Congressional Internship Book," "Guide to America's Federal Jobs: Where the Jobs Are and New Ways to Get Them," "Government Affairs, Federal, State and Municipal Yellow Books," and "The Harvard Business School Guide to Careers in the Nonprofit Sector"
Professional Organizations
For information about career options, internship and full-time opportunities, contact the Career Education Center at One Leavey Center, (202) 687-3493. For more information about the major and degree requirements, contact the Department of Government at (202) 687-6130.